How URS Digitally Stood By GameXtreme To Expand Its Online And Offline Presence | UrsDigitally
Abstract 
GameXtreme, a popular gaming platform in the Philippines, reached out to us for augmenting its digital presence. They also had a wishlist to form a standardized ecosystem where their business could be digitized. We created a holistic digital strategy by studying the market of Manila, Philippines, understanding their target group, and focusing on the objectives. A critical component of the strategy was to define a strong overarching brand positioning model complemented by a future-proof purpose statement. 
In this case study, we will portray the kind of work we carried out to push GameXtreme to a better position. We will also share the strategies that we had undertaken for the brand, keeping in mind their aims and objectives.
About the company 
GameXtreme is one of the largest gaming and electronics retailers in Manila, Philippines that offers products relating to the Filipino tech and gaming community. They also are one of the top sellers of electronics i.e. laptops, IoTs, mobiles, etc. Right from its inception in 2000, GameXtreme has been making the lives of the youth happening with its variety of console gaming, gaming devices, gadgets, laptops, and IoTs. 
Having an experience of more than two decades, GameXtreme has made a mark in the Philippines gaming industry. Over the years, they have been successful to open more than 20 stores across the Philippines. At present, GameXtreme aims to venture with other brands all over the globe, make more quality products, and make GameXtreme a more accessible platform.
Pain points of GameXtreme 
In the first meeting with GameXtreme, we figured out certain gaps in their current business processes. We understood that these gaps were acting as a barrier to their growth plans. As a responsible digital marketing agency, we conducted a gap analysis workshop with the stakeholders and listing our findings below: 
The entire retail store operations currently happen in a non-digitized format 

Severe lack of strategic digital footprint reflecting in a not-so-strong profile across social, search, and other digital ecosystems

Lack of omni-channel integration strategy resulting in stagnated repeat business

Need for an overarching brand identity model acting as a reference for all brand communication

The e-commerce business though extremely heavy in sales runs without a proper roadmap and budgeting
Client wishlist 
After a thorough meeting, we got to know that the client, GameXtreme, had the following requirements from us: 
Provide an integrated digital presence 

Develop a standardized digital enabled ecosystem to drive all processes 

Create a unique brand proposition to which the target group can relate 
Our solution : Digital strategy 
Keeping in mind the loopholes of the company and their requirements from us, we developed an effective strategy. For a better understanding and acknowledgment of the client, we broke down the strategy into five workshops. The details of each workshop are provided below:
Workshop 1 : Knowing The Brand
To augment GameXtreme as a brand and set up a standardized monitoring system, our team felt the need to understand the company better. For this, we created an in-depth questionnaire. The questions were segregated into six categories as mentioned below: 
A. GameXtreme as a company
To achieve what the company aspired to, it was crucial to understand the company in and out. To do so, we asked them questions related to the following: 
Value promised to customers 

Revenue and business models 

Marketing touch points 

Primary problems 

Unique selling proposition 

Distribution channels 

Marketing objectives 
B. Understanding demography 
The target market stands as the crux of any company. Every company chooses to satisfy its target market. To fulfill the demands of the target group and be relevant to them, we asked these questions relating to the demography: 
Socio and cultural framework 

Market expansion in Manila 

Payment modes people are comfortable using 
C. Competition analysis 
We asked GameXtreme about some of their competitors because it is necessary to learn about the loopholes that the competitors are leaving behind. These loopholes can be easily tapped in to stay ahead of the competition. Some of their competitors are Data Blitz, PC Build and Silicon Valley. We also conducted a SWOT analysis to understand the strengths and weaknesses of GameXtreme.
D. Target group study 
GameXtreme creates several gaming products to be used by its end users. To realize the demands of these end users, we asked questions pertaining to the following: 
The profession of the people 

The age group of the people interested in their products 

Digital behavior 

Suitable keywords with which consumers search them  

Triggers that influence consumers 
E. Content requirement 
Since social media is a different ballgame, it demands a separate treatment. To create a powerful digital presence, a company needs valuable content. We asked the company about the tonality that they are looking forward to, the words that they would prefer to use to describe their brand, their primary message, and many more.
F. Media analysis 
When discussing media analysis, the first aspect to be taken care of is the customer retention rate. Further, we asked them about the different social media platforms they use. 
So, the whole of the first workshop went into gathering the necessary information. With this information, we conducted the market analysis, consumer analysis, target group analysis and competition analysis for the next ten days.
Workshop 2 : Validation and client feedback
In the second workshop, our team took the initiative to validate the analysis. Finally, we prepared a report to showcase to our client. This report consisted of overall Manila market dynamics and the demand for games and gadgets in the Manila market. Also, we analyzed the websites and social media platforms of the competitors.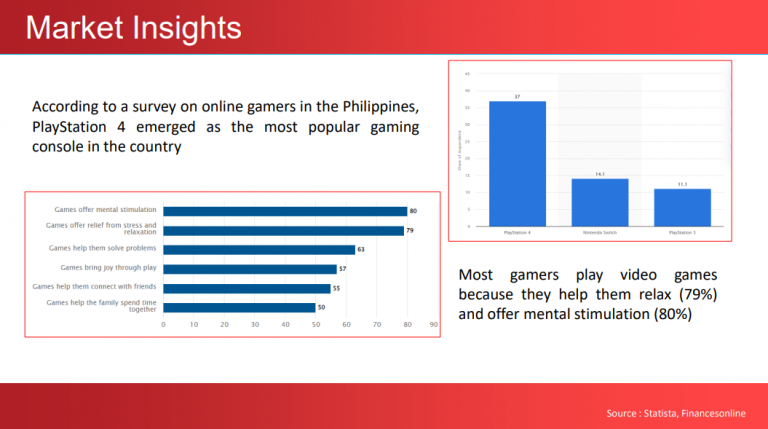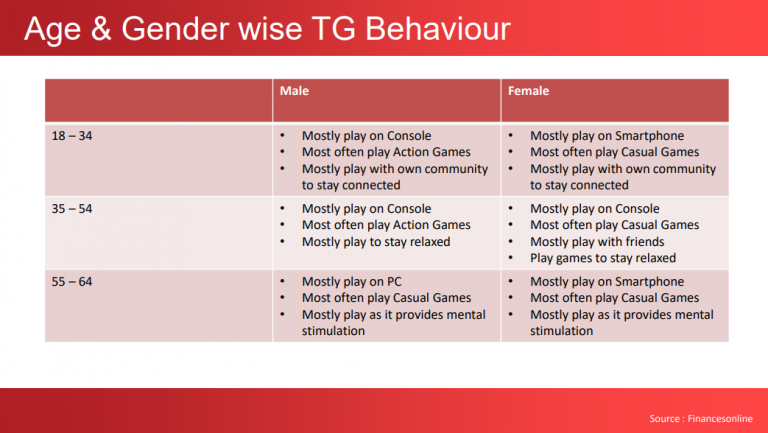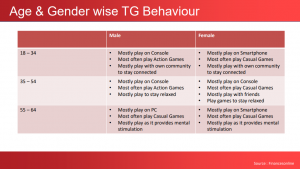 In this phase, our objective was to figure out the digital maturity of GameXtreme. To do this, we identified some digital assets and divided them into separate parameters. Under digital maturity, we categorized four different aspects – digital champion, digital expert, digital apprentice, and digital beginner. For the whole process, we took a tenure of 3 – 6 months to check out its progression. In addition, from a technical point of view, we audited the website of GameXtreme to figure out its attributes, link popularity, and competitive potential.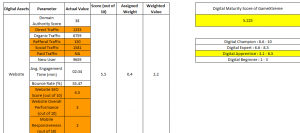 Workshop 3 : Content gamut
After detailed research of the second workshop, we found two sets of target segments – casual gamers, who were interested in gaming accessories and games, and other individuals, who were interested in other gadgets such as laptops, IOTs, and mobile devices. Next, we ran pilot campaigns to get primary data and optimize the target group. 
In the third workshop, we worked on the communication strategy of GameXtreme. We proposed GameXtreme utilize various social media platforms and come up with strong and inspiring messages. Our primary focus was to promote organic content. We created a content bucket consisting of the highlights of the communication strategy. It consisted of educational content, testimonials, descriptive product focus, new updates, product launches, brand USPs, contests, and campaigns.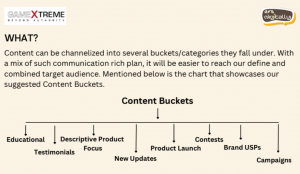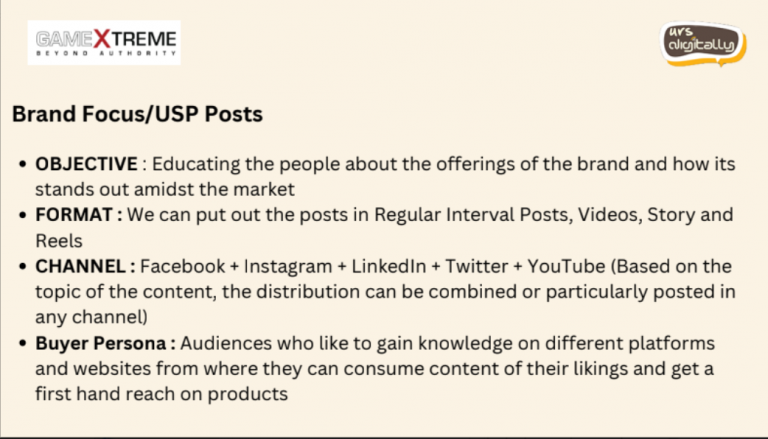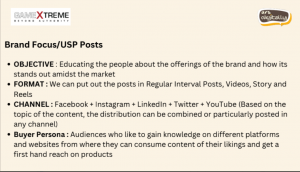 Workshop 4 : Digital distribution
After GameXtreme team approved the content strategy, we moved on to the fourth workshop. This workshop was all about presenting the budget to team GameXtreme. For this, we shared a proper SEO plan, media plan, and e-commerce plan relevant to the brand in the form of daily, weekly, and monthly reports.




Workshop 5 : Budgeting & final presentation
In the final workshop, we presented the phase-wise activities and budgeting and asked for GameXtreme's feedback followed by a detailed discussion on carrying out the plan.
Digital roadmap 
Besides the five workshops, we also suggested some changes for GameXtreme that could bring effective results. Here are our suggestions: 
Changes in the website based on user experience

Targeting potential clients according to different cities

Considering Facebook and Instagram as the primary channels of promotion and YouTube for gamers

Revamping the website which includes designing some page layouts

Social media management and governance

E-commerce and MPM management

Performance marketing for partner onboarding

Loyalty program for consumer retention
To co-create Digital Transformation blueprint for your Brand, get in touch with us –
To get a free audit done for your website click below –