The last few days have been exciting at Magne. With World No tobacco Day approaching fast on May 31st, it was exhilarating as the Magnets grouped up to design the #WorldNoTobaccoDay campaign for few of its most esteemed clients. With most members of the teams being extremely committed smokers and a few that detests it, it soon turned out to be like an Arnab Goswami moderated primetime debate, with both sides billowing smoke like national permit trucks, some active and some passive, it was a perfect stage set for the team to filter their thoughts through the smokescreen to achieve clarity on what has to be said and how it would be said. Here is an insight into each ad of Magne's #WorldNoTobaccoDay campaign.
1. As we sat down in a circle countering cigarettes, the ordeal quickly turned into thought-countering carousel. Ideating the #WorldNoTobaccoDay campaign for Arcadia Centre, a Class A business centre amidst the thick of things in Kolkata's dynamic business district, took a leisurely stroll in various directions. After pondering upon ideas for hours, we hit upon imagery close to everyone in Kolkata. The imagery shows a demolished bridge of cigarette butts accompanied with copies in English and Bangali that subtly addresses the ill effects smoking might have on the smoker's body while cleverly touching upon the recent flyover collapse in the heart of Kolkata, a tragedy that touched many hearts.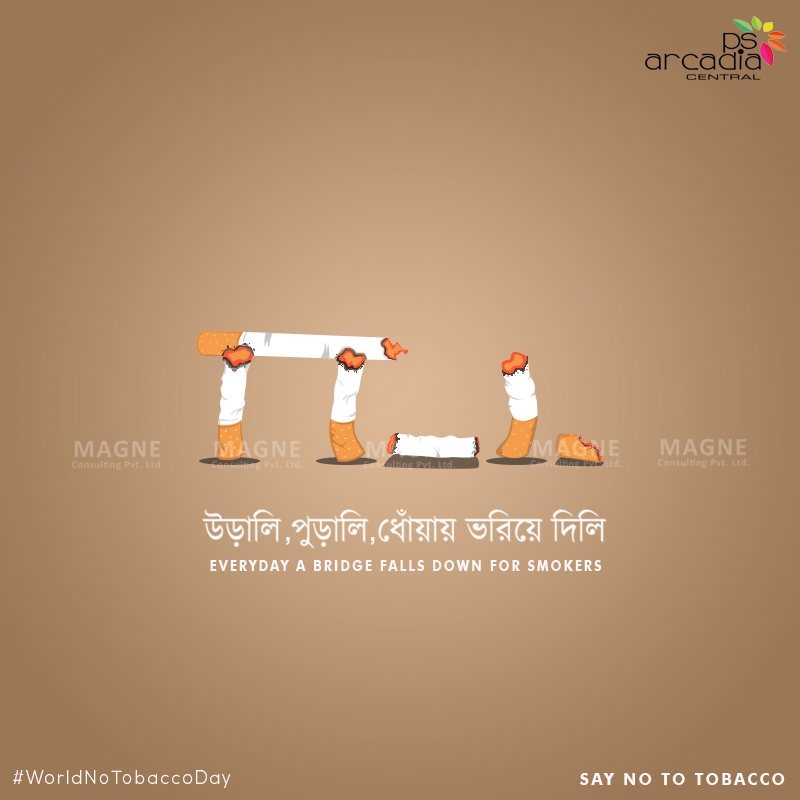 2. Life is cyclical. Things repeat. As we embarked upon the forced Deja-Vu of counter smoking while on one of the smoke breaks, our ad for Sucheta Publications Ltd's #WorldNoTobaccoDay campaign took shape. Sucheta Publications Ltd deals in the business of creating study aids and material for anyone preparing for a career in commerce.  As the break came to an end hit upon an idea. Nothing spells success like success. The road to success is testing and intense. Years of magnanimous efforts can blow up in smoke in a jiffy. No one wants that. With a simple image of a cigarette blowing up in smoke and the emanating smoke-form taking shape of a trophy, it boldly proves its point without dwelling upon bollocks. The copy 'All your success can go up in smoke' not only hints upon the competitiveness in the commercial world but also seeks to warn the smoker of how complacency is not the route to take. 
3. The most frustrating part of being a smoker are the times there is a lot to smoke but not a stick or lighter to light it with. Well, you've got to do what you've got to do and maybe even walk a mile in sweltering heat to the nearest paan shop, which is almost light-years away, especially in such crunch-situations. To make the gruelling pilgrimage results in a round of lung satiating smokes at the end. This soon became our inspiration for the ad we did for Titas, a loading footwear brand for its #WorldNoTobaccoDay campaign. The imagery captures two shoes placed parallel at an angle into each other. Lo it looks like a pair of lungs. With one shoe burning at the heels, the image uses the brand's product type to forward the hazardous effect smoking has on the smokers lungs. The copy 'Keep walking, Stop Smoking' adds mileage to the image. Well you've got to keep trying no matter what comes and even if it is a task as clichéd but important as quitting smoke.
4. Scientific research and commonsense tells us that kids are most vulnerable to the ill-effects of smoking.  With a team largely made of over-sized adults, that are kids at heart, the course was set when we had to design the #WorldNoTobaccoDay campaign for Appleeye, a leading brand in kid's apparel. The ad is a no-nonsense ad with simple imagery of a burning cigarette with a bold concept. The copy takes lead and asks you to denounce smoking to help kids. The copy focuses on the fact that children are the most affected by passive smoking and hence if you quit smoking, you make it a better place for children around you.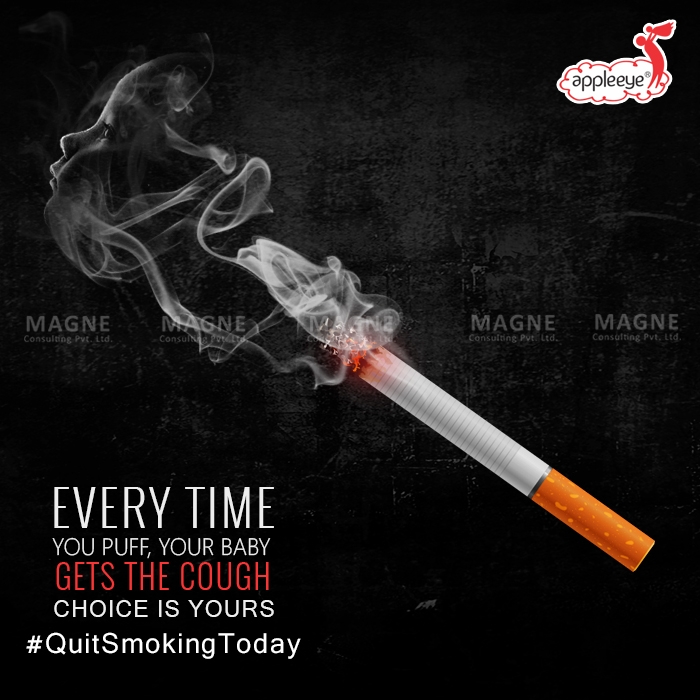 5. Designing the #WorldNoTobaccoDay ad for JewlesForum, a leading e-commerce jewellery brand was one which was formulated in between smoke breaks. Using the picture of a bejewelled lady, the picture embodies beauty, physical beauty. But the treatment on the picture is what sets it apart. With her bust on fire and charring to ashes, coupled with the grim expression on her face, the ad attempts to take a route which no jewellery brand has ever done before. With a powerful message in the copy that emphasises on beauty that works on not just physical levels but, also ephemerally internal, this ad encourages readers to also give importance to self beyond physicality. Well it also subtly touches upon the destruction tobacco smoking causes to the internal body.
6. IRIS Hospital, a leading brand in the healthcare industry had to have an intimate #WorldNoTobaccoDay campaign going for them. With an image of a skeletal hand and flowers that depicts death, this campaign is a take on the opinion that smoking surely leads to a quicker death eventually. Taking cue from a successful campaign we ran for them a couple of months back, which read 'Life is a four letter word, so is Iris', we decided to realign the same to ask everyone to give more importance to health and discourage smoking. The 'Death is a five letter word, so is Smoke' successfully uses the mileage from an already successful campaign for the brand to reiterate the damage caused by smoking, which is often fatal.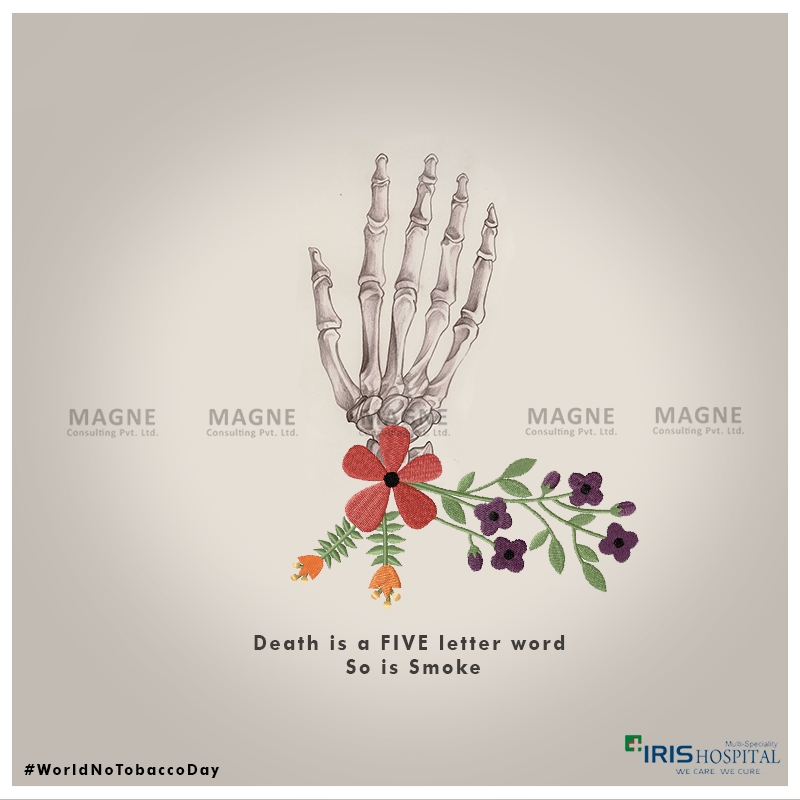 7. Working for our clients led us to attempt a campaign for our own company. For Magne, we tried taking a funny route. Well, as smokers, one of the most frequent things you hear is how one should stop smoking because amongst many other vices, the deadliest thing that can happen to a smoker is impotency. Using reference to an infamous campaign, which promised that its oil would cure erectile dysfunction in an instance, we formulated a fun #WorldNoTobaccoDay campaign for ourselves. Well if you keep smoking not even the oil will 'get it up'.  The campaign is also a clever hint at the heart of digital marketing – good content. Well, if you keep feeding smelly, irrelevant smoky content into your online brand identity, not even a wonder brand exercise will help you raise the bar.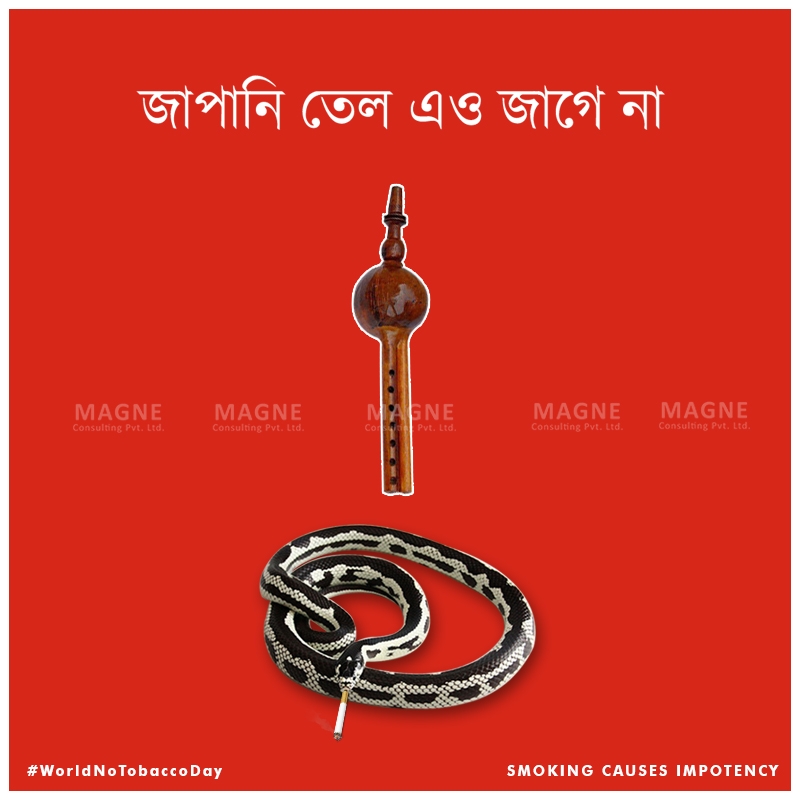 8. For the second ad for Magne, we milked our idea from a famous Bengali literary character, Feluda. One of the most important elements of the Feluda stories by Satyajit Ray is his habit of smoking filter-less Charminar cigarettes. Feluda as a character is deeply embedded in the consciousness of most Bengali's, across the age spectrum and it was an imagery which was perfect for the #WorldNoTobaccoDay campaign. Lalmohan is an equally famous character from the series. The Lalmohan-Feluda pair is mass loved and readers know how Feluda has smoked cigarettes relentlessly in the presence of Lalmohan throughout the series. Addressing the ill effects of passive smoking, the ad showcases a moment born out of fantasy in Feluda's world, where he receives the news of Lalmohan being diagnosed with Lung cancer. He decides to give up his most intrinsic habit- Smoking.
Hope you enjoyed reading more about the 'smoking hot' ads we did for the #WorldNoTobaccoDay.  Want to know more about the work we do? Write to us at Write to us at reachus@magneconsulting.com right away.
Hope you enjoyed reading more about the 'smoking hot' ads we did for the #WorldNoTobaccoDay. Want to see more about the work we do? For any thing related to digital marketing, Write to us here. We'd love to hear from you!