The ideating process for Social Media Ads is fun! Unlike regular campaigns, Social Media Marketing involves a plethora of mediums which govern the way you approach the creation process. If you already haven't heard it, simply posting your ads online, especially on Social Media will not work a bit. There are a million different fishes in the digital sea, but the audience wants sausage for dinner! So how do you reach out to more people and gain their attention for you to increase your brand recall value online?
Catch on to trending topics (not as easy as one would think!) and include it in your ad creative or use Social Observance Days (not easy either) as your catapult! For Raksha Bandhan, our 'Ma(d)nets', fresh out of the Independence Day Campaigning oven, set out to ideate ads for various brands for Raksha Bandhan- a festival which celebrates the bond between a brother and sister!
While ideating creative advertisements for brands, you often think in excess and end up with more ideas than you can use for the brands you actually promote online. But when it comes to ideas, nothing goes to waste! We chose to put these ideas to work by ideating creative ads for imaginary brands (inspired by real ones!) to help add a much needed zing to their social media identity, imaginarily!
Here are five creative Raksha Bandhan Ads that will send you rushing for your sibling in no time.
Buying gifts for someone is one of the most difficult things to do in life! Be it Raksha Bandhan or any other festival, the go-to-gift for any brother from a sister, just happens to be deodorant. Imagined for a fragrance brand this ad seeks to provide solution to the predominant problem. Buy perfume instead! Branding and Product marketing all encapsulated in one creative ad, which seeds from something humorously emotional and commonplace in the Indian setup.
Imagined for a popular television channel, this creative advertisement is an ad for a popular mini TV- series directed by Steven Spielberg. Since Raksha Bandhan is a festival celebrating the protective bond of a brother with a sister, we imagined it being advertised in the Indian viewership market as a Raksha Bandhan special. A great way to engage audience on Social Media! Right?
Raksha Bandhan translates to English as 'The bond of protection'. Who needs protection more than your Computer? C'mon! With Torrentz back into action and your tryst with being lonely, there is no way you can ever deny the need for Computer protection. This creative forms a Rakhi with a Morton Internet CD and is a Social Media ad for subscription. Emotion, Recall and a Sale Pitch, all clubbed into one! Well Social Media marketing is one crazy place and beautiful things like this happen all the time.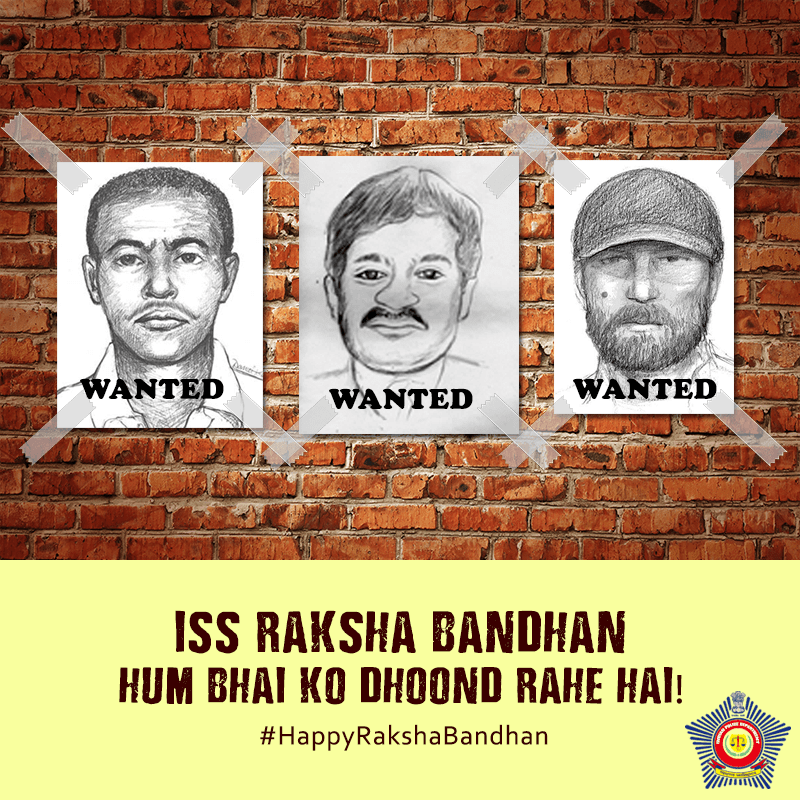 No one loves their 'Bhais' more than the police! With Dawood Ibrahim's sketch in the middle and sketches of generic looking criminals (Most of them just go by the name Bhai! Dont you watch Gumraaah?), this creative ideated for the imaginary Indian Police Department, it is a humorous public service announcement ad; something that we think will help with Online Reputation Management of the organisation. Social Media creative ads on such Social Observance Days help with various brand building exercises and communications without sounding too preachy. People love fun more than preachy, don't you think?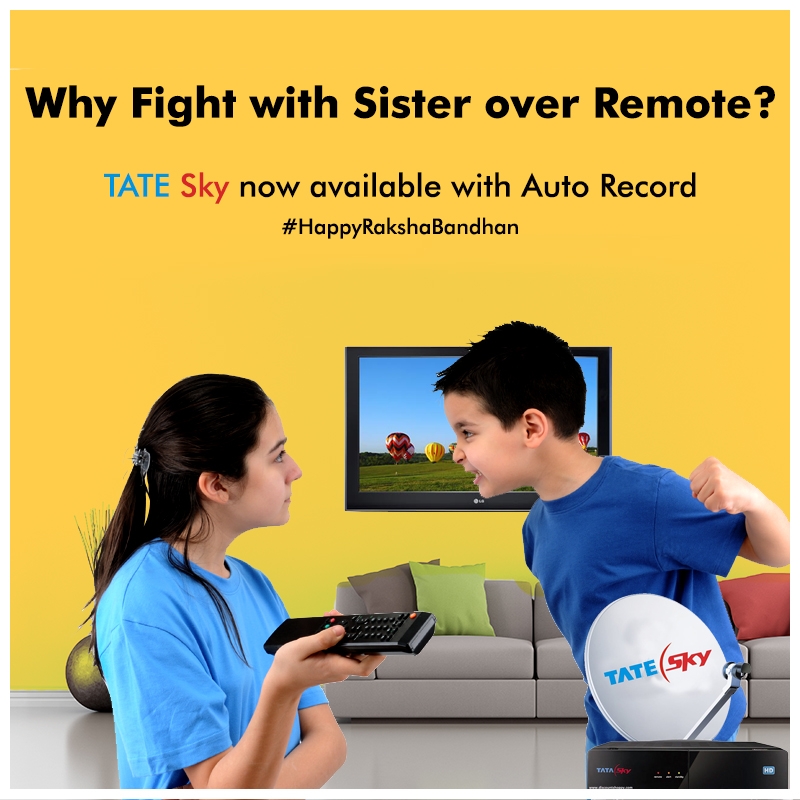 For a festival that celebrates the bond between a brother and sister, how could we not include some extremely nostalgic and commonplace emotions and motifs part of a brother sister relationship. If you have a sibling, you definitely understand how the T.V remote can turn out to be the reason for the next World War. Well, it is such irritating memories that define the sweet liaison between siblings and such emotions make for great fodder to feed on when ideating ads. Imagined for a D2H provider that also allows live recording, this ad was created as a product sales ad forwarded on Social Media on Raksha Bandhan. You should try it for your brand too!