With over 2.34 billion people active on Social Media, the demographical correlation of marketing strategies have swiftly changed in very little time over the past few years. You must've already heard that if Facebook was a country, it would be the third most populated country in the world. Imagined as a nation, Facebook is definitely democratic in nature. We already know how free opinion and choice is online on Facebook. Brands and businesses are already catching on to the boons of such a powerful mass marketing medium.
Speaking of democracy and Facebook, 16th September 2016 is celebrated worldwide as International Democracy Day. It is most definitely an important observance day. For businesses and brands these observance days are a great way to reach out to a diverse TG through Facebook posts to drive brand visibility and brand recall value through engagement very quickly and without a pocket-heavy marketing budget.
We imagined some fun posts for International Democracy Day for a few imaginary brands (inspired by real ones) which garnered viral engagement on Facebook. Here are two such posts which are exemplary when it comes to hacking customer conscience for better brand relationship, visibility and identity among the TG.
Making the Voice heard!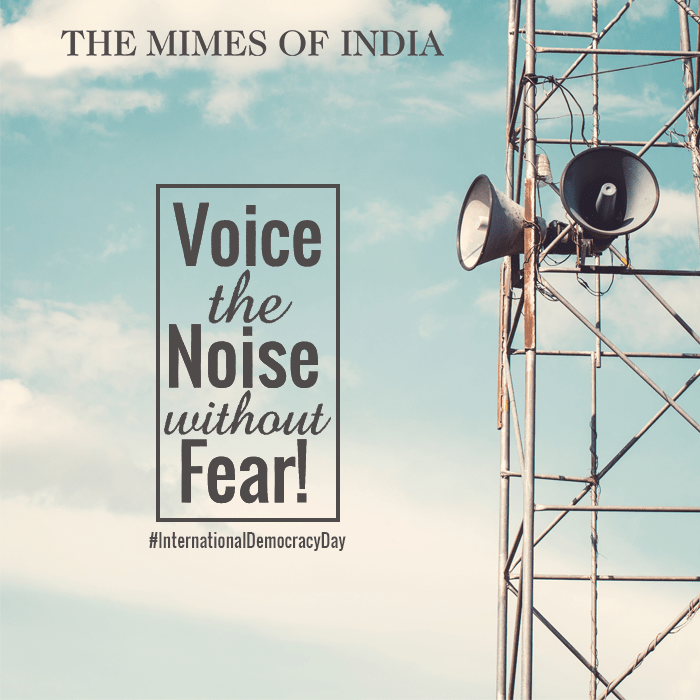 Brand: The Mimes of India
Industry: Journalism
Target Group: English speaking population
Concept: This ad has been imagined for an English newspaper brand. One of the greatest gifts of democracy has been the gift of expression and that of free press. With a copy 'voice the noise without fear' the creative establishes the prime personality of the newspaper- To culminate news from the chaos and voice it articulately to drive information and opinion. The creative manages to forward the brand's personality successfully without dropping relevance in terms of the observance day. It helps establish the brand's personality in the consumer conscience thereby improving the brand recall value by a large degree.
DemoCRUSHy rules!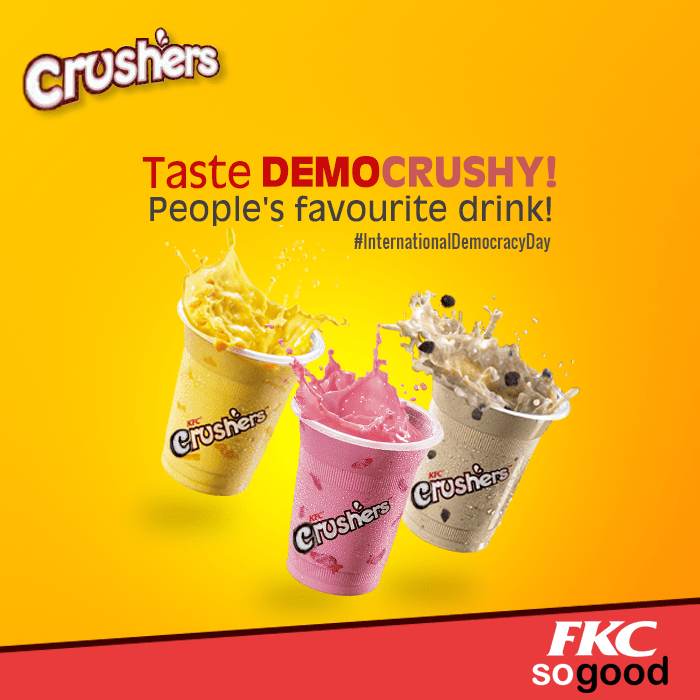 Brand: FKC
Industry: Fast Food Restaurant
Target Group: Restaurant patrons, MIG –HIG, 17-55 years of age
Concept: A product marketing ad, this post for International Democracy Day is fun in nature. Let's face it keeping in mind the brand image, and service persona, this ad aligns itself with the same to embalm a product into the audience conscience using copy alliteration. It is not always needed to be preachy and serious, especially on Social Media to generate a great response and engagement on a marketing material.
Improving Brand communication on social media is multi-faceted. Other than designing ads for our regular clients, we often put ideas to work for imaginary brands across industries to test the social media waters from time to time. Follow ClassyFrieds, our very own fun Facebook page dedicated to such ingenious attempts and find more such fun facebook branding posts.
We were just talking about International Democracy Day. The essence of Democratic agreement has been epitomised in one thing only… Chocolates! We all love chocolate and everybody agrees. That is what Democracy seeks. Speaking of Chocolate, did you know that the 13th of September each year is celebrated as the World Chocolate Day? You guessed it right! Missing such an observance day with high public interest should not be ignored in social media marketing under any circumstances. Here are some brand communication posts we did this World Chocolate day.
Gokul..So Cool!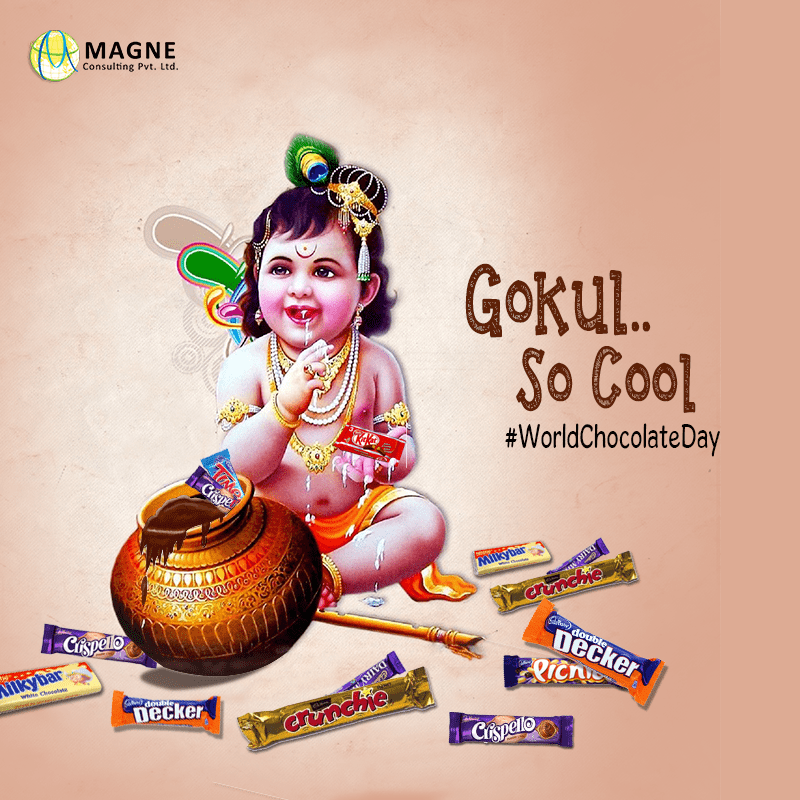 Brand: Magne
Industry: Marketing and Advertising
TG: Indian, 16-60 years of age
Concept: A common element in any Indian household is the picture of Lord Krishna as a baby eating butter from an earthen pot. The matt watercolour image has been repeated in calendars and pictures the same way for decades. It is extremely iconic in nature and is an image which is deeply embedded in the Indian mind and hence is highly identifiable. Simply replacing the butter with chocolate says a story that everyone can understand and love. The post for World Chocolate Day was not selling anything. It was directed at high engagement to improve our brands visibility on Social Media. And voila… it was successful!
It gets competitive!
Brand: Arcadia Centre
Industry: Professional Centre
TG: Closed Group Communication
Concept: Visual communication is becoming so important on Social Media that brands should now look to include more videos and GIF's in their Social Media Strategies. This GIF designed for Arcadia Centre for World Chocolate Day is not just a simple GIF image. We turned it into a competition. All you had to do was freeze the frame with the chocolate bar in the mouth of the guy. Whoever posts back a screenshot of a successful attempt the fastest wins a surprise gift. Such simple competitions online drive massive engagement on Social Media and is a potent exercise at brand building and recall value.
Social Media Marketing is a fast changing sphere but it still is one of the most versatile marketing mediums available now. Want your business to stand out in the social media mayhem? Get in touch with us and let's make it a journey worth remembering.