Expression comes naturally to a Bengali. Be it in love, in war, in grief or in frustration. Not because Bengalis are genetically blessed to be expressive but because a certain bearded man chose to make lives way easier for them. Yes, it is Rabindranath Tagore who is being spoken about, perhaps the closest a Bengali can relate while hearing about Shakespeare!
Rabindranath is not a bard to a Bengali. Rabindranath is a very relatable sensation. A feeling or a gesture expressing various emotions and states of mind, in fact, there is no moment in the life of a Bengali that Rabindranath has not expressed through his works. And, his is perhaps one of the most successful branding case studies ever.
More Than Just KOBI-GURU (Master of the Poets)
Rabindranath was more of a multifaceted man than the contemporary media ever cared to show. An avid environmentalist in an era, when awareness was a luxury, a feminist with a strong opinion on female sexual assertiveness and an advocate of liberty and free speech, he was a rebel, before it became 'cool' to be so. In fact, he built his brand of cool, a demeanour of disregard for convention and not being an escapist to desires. He was also a fashion icon and stuck to his distinctive style of dressing up and appearance.
In a world where speaking for the 'have nots' makes a student, an 'anti-national', it is funny to think what fate would have Rabindranath attracted for his views on nationalism. A cosmopolitan in his outlook, Rabindranath openly spoke against the chauvinism hurled upon a multicultural society like India, when it was put inside the umbrella of nationalism. He was considerate to wonder the liberties of each community and that of personal liberty, without being a utilitarian. He was a believer in the reformer and in debunking stereotypes of all forms. Many of his characters such as Rehmat (Kabuliwala) or Ratnakar (Balmiki Pratibha) were shown to have a kinder and humane side, despite their preliminary flaws.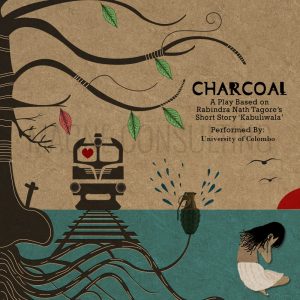 One of our contemporary renditions from a recent digital campaign for well known non-profit body – The Happenings, who had recently organized a series of Tagore's plays enacted by different International Universities.
Another of our creative works for The Happenings.
Why He Matters And How
Rabindranath's ideologies have thus translated effectively into the voices of various activists to strengthen their causes. People roaming the streets of Kolkata with Rabindrasangeets written all over their dresses are a common scenario. Who can forget the usage of Rabindra sangeets as a political symbol of branding by Trinamool Congress in 2011 assembly elections?
It is indeed commendable as how Rabindranath has been infused in our minds as a lifeblood that even in our subconscious we end up using him as a brand!
Liked the blog? please spare a minute to share. And, do not forget to go through our creative showcase.