We have been doing social media campaigns for jewellery brands, and gathered quite an experience on jewellery industry. Many of the traditional brick and mortar jewellery houses are now establishing online stores to tap the booming ecommerce market. Though the e-commerce for jewellery is at a nascent stage in India, it is extremely important for a brand to generate trust through various branding exercises before they start generating leads for their high value jewellery products.
Now, Who does not love jewellery? Diamonds are obviously a girl's best friend and various other gems form their able accomplice. But, even though jewellery is a constant in modern lifestyle and pretty much well researched, there are some facts which still help raise an eyebrow or two. Here are some amazing facts which will make your jaw drop.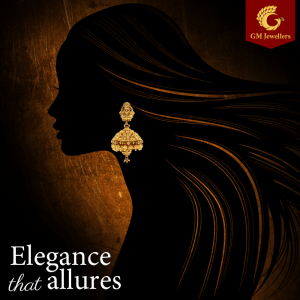 One of our works for a jewellery brand that caught a lot of attention on Social Media
The Tirupati temple in India owns about 20 tonnes of gold and diamond jewellery,  valued at Rs 1 lakh crore i.e. 1,000,000,000,000 –   Some of them date back to the 12th century.
With an estimated 8,133.5 tonnes, The United States happens to have the largest gold reserve in the world. Would you believe that Gold is one of the heaviest metals? Yet, pure gold is soft enough to be moulded by hands. It came from the meteorites that bombarded Earth 200 million yrs. ago
The most expensive jewellery ever used in a movie was the necklace worn by Kate Winslet in the movie Moulin Rogue. The 134 carat diamond necklace costed the producers just over 1 million dollars!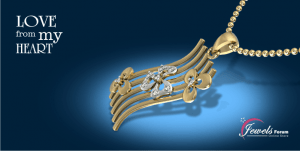 One of recent campaign artworks for a jewellery e-commerce site
Prince Charles proposed Lady Diana with a sapphire ring prized $38,488! Kate Middleton is the proud owner of the mesmerizing piece of jewellery.
Indian tennis ace Sania Mirza faced religious opposition from the Ulemas, for her nosepin at the outset of her career. Eventually, her nosepin became so popular, that the design of her nosepin achieved an iconic status in fashion all over the world and came to be known as "sania mirza" nosepin.
The L'Incomparable created by Mouaward in 2013 is the most expensive jewellery in the world. It costs a whopping $55 million.
The oldest pearl jewellery was discovered inside the coffin of a Persian Princess who died in 520 BC.
Another of our creative works for a jewellery manufacturer
The "South Sea pearls" are among the greatest commercially harvested cultured pearls in the world. South Sea pearls are 13 mm on an average, with most harvests producing a range of sizes from 9 mm to 20 mm. The northern coast of Australia and the southern coast of China are where South Sea lie.
Do you know that almost every ruby has flaws? Perfect Rubies are exceptionally rare and are priced higher than diamonds of a similar weight and quality.
Opal was Queen Victoria's favourite gemstone. What attracted Victoria to opal instead of diamonds or ruby we wonder.
The price of a diamond increases with its lack of color! True. The closer a diamond gets to colorless, the higher its per-carat price. Colorless diamond, which is extremely rare, is exponentially expensive than its colored peers.