As human beings we often take things for granted. As digital marketers, we all run the risk of doing the same as periodic as Mondays! To take either a customer or the target audience for granted results in instant marketing doom. Speaking of advertisements and doom, what dawned on us earlier this week was sort of a revelation! Do we take our freedom for granted?
On June 26th 1999, the Indian army reclaimed the high military outposts of Kargil from Pakistan after 60 days of continuous battle. War is always sad and best avoided. With over thousands dead on both sides, the battle ended on this day with India reclaiming Kargil, and with it the security and peace of our nation. We as citizens of this country are indebted to pay our homage to the soldiers and martyrs who selflessly dedicate their lives for our safety.
While we are proud of the efforts of our troops over the years, we also hope for a more peaceful solution. One in which lives are spared! But, you may be thinking how this fits into something as commercial as marketing! Urgh. But, Let's face it. Today's marketing is not about pushing your products out in the front only. It's made a giant leap forward already. The key lies in constant conversation with the people. And that's how an astute social media strategy generates brand recall. For a nation with a population of over 1.3 billion patriots, this would be the best time to design content for your audience to engage, endorse, and share.
As a digital agency we brainstorm and experiment with hundreds of Social Media Campaigns around such important occasions. Here's a list of our favourite social media posts on Kargil victory day!
Peace is the best weapon!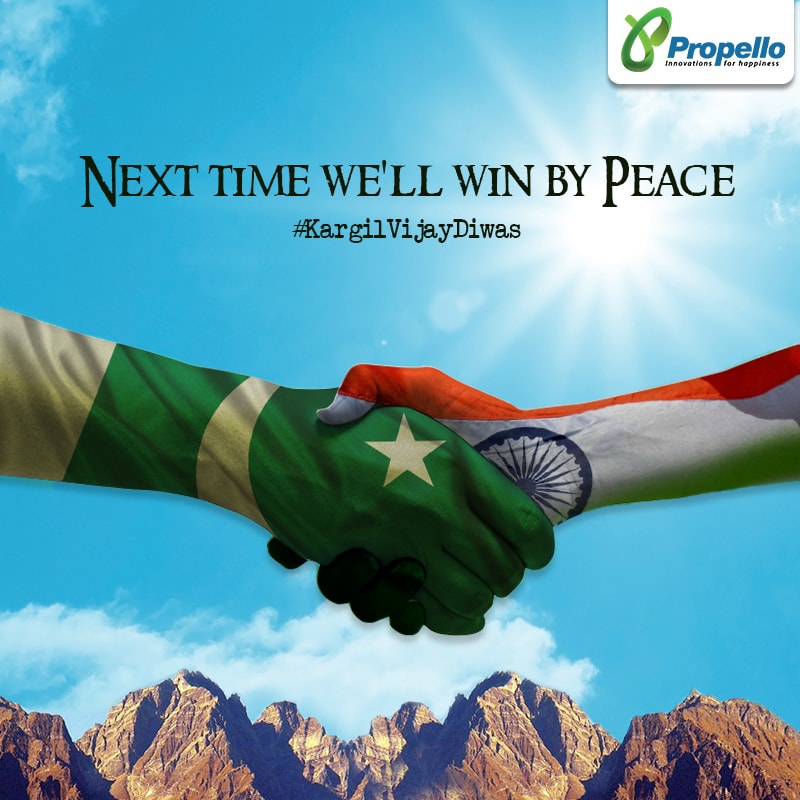 War is not the ultimate solution! We know the impact that a war has on innocent lives no matter where, when and why it is fought. The world is already broken by bullets and bombs and intellectual armoury of diplomacy. While we can never forget the sacrifice and valour of the martyrs that fought relentlessly for our safety at Kargil, 17 years back, here's to hoping that we can win over our individual and national enemies with love and peace, if the need arises in the future.
The Real Jewels of India!
Created for an online jewellery brand, this Social Media Campaign make a bold statement in its own language. Those brave soldiers that dedicate their lives for our safety, are our real gems of the country. The creative reflects the heartiest gratitude for those who sacrifice their lives in order to keep the nation free and secure!
The Real Protectors
What does a state-of-the-art hospital is expected to offer? Yes, a round-the-clock protection from the medical ills. In this #KargilVijayDiwas message, we sought to pay homage to those soldiers who without sleep or aid stay awake in the toughest of conditions keeping a watch over our posts, so that we sleep healthy and peaceful. When it comes to social media strategy, many a times one has to forego a 'sales-like' stance of a brand and go ahead by highlighting events that have a huge mass potential. Our attempt was to find a huge reach among targeted mass pool without loss of relevance of either the brand identity or the event as well.
Vijay is all grown up!
What the heck? Yes, you're right. It's outrageously odd and funny too! Borrowing inspiration from one of Nirupama Roy, the eternal bollywood mom, famous dialogues, "Mera vijay bada ho gaya.", we have personified the Vijay Diwas as Kargil victory turns 17. With a good combination of pop imagery and emotional recognition of the social observance day, it makes for the perfect recipe for a grand social media engagement.
Triumph of the Will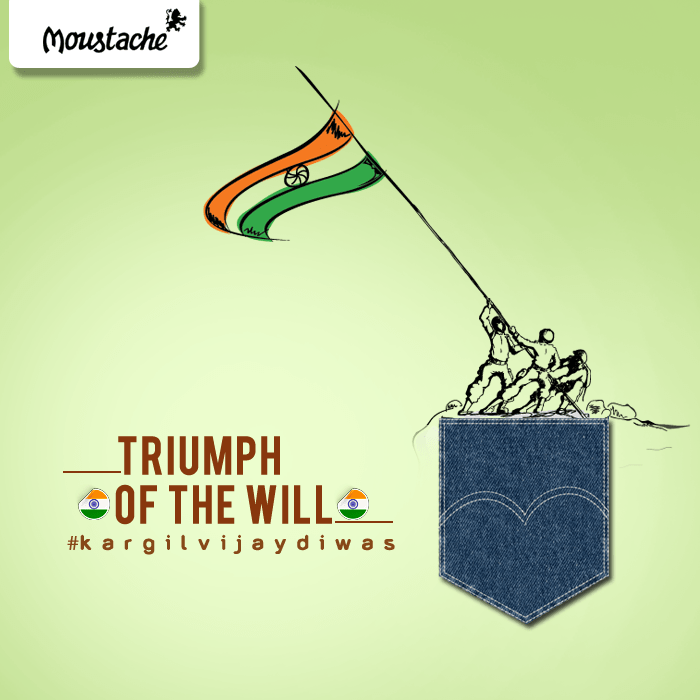 People love stories of inspiration. Nothing inspires more than one's will. Socail consciousness is short lived. In a social media platform, the average attention span of a viewer is very limited. Emotions help make an impact. For a leading jeans wear brand's #KargilVijayDiwas message, we forwarded the emotion that reflects the spirit of this nation, while commemorating the historic victory at Kargil.
Rally of the Brave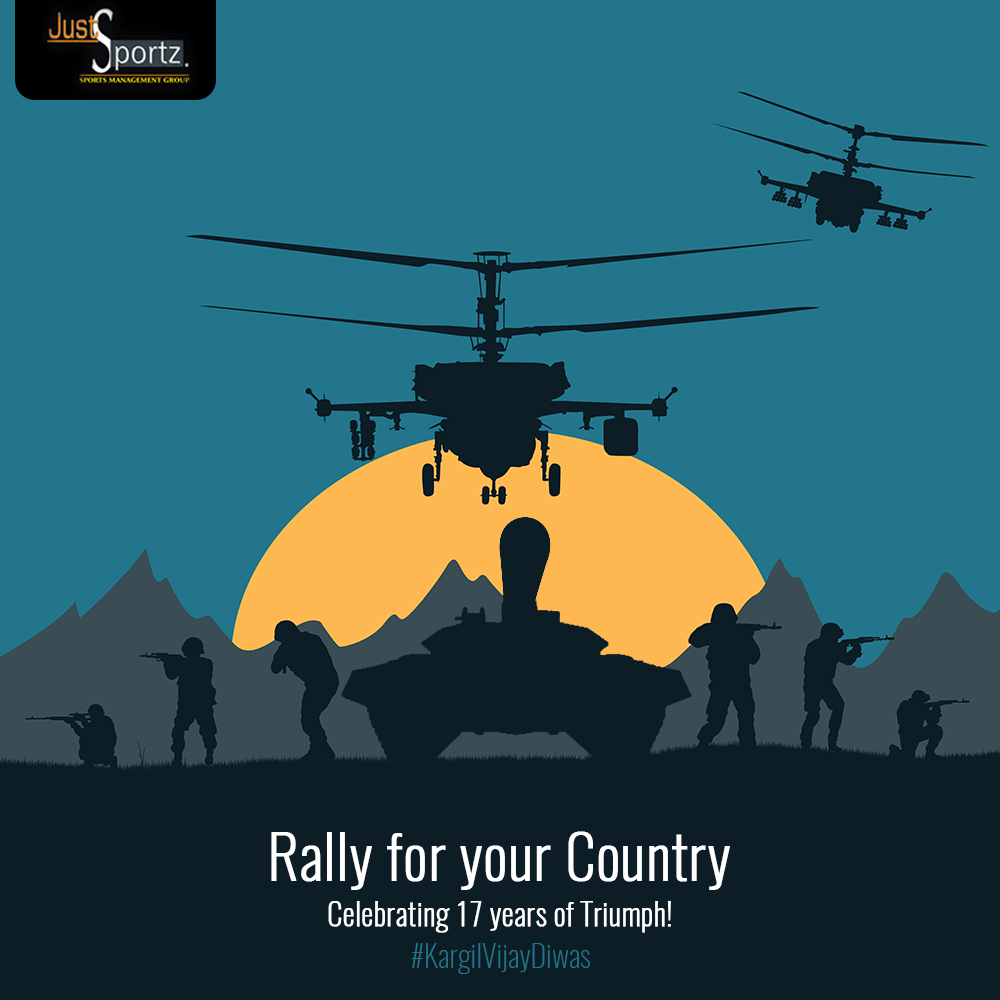 Developed for a leading brand in adventure motorsports, we let simplicity make way. While strengthening ad-poise with patriotism, the word 'Rally', has been used to merge the brand's identity with the event. Like we have already said, relevance and amalgamation of brand identity with contextual events is key to a successful social media engagement.
Cementing the Spirit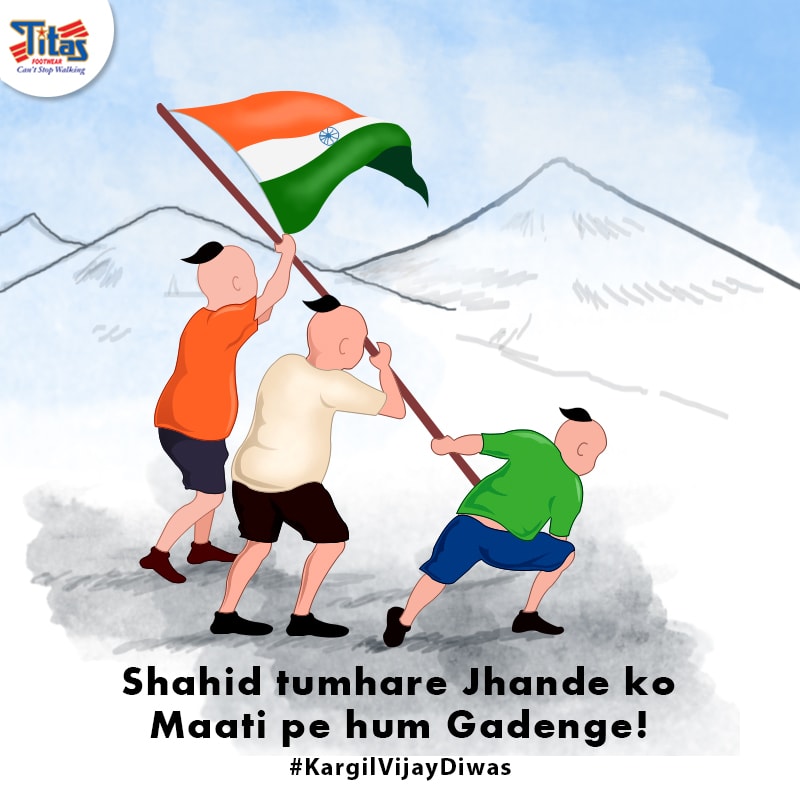 Social Media Mascots are a great way to establish a relationship with the followers and fans. When we created this Social Media campaign for a leading footwear brand , we have used their popular Social Media Mascot, Chotu, to relay the idea of unhindered patriotism. The message also successfully grips emotion with lines that directly pay homage to martyrs of the war.
Home is Home because of them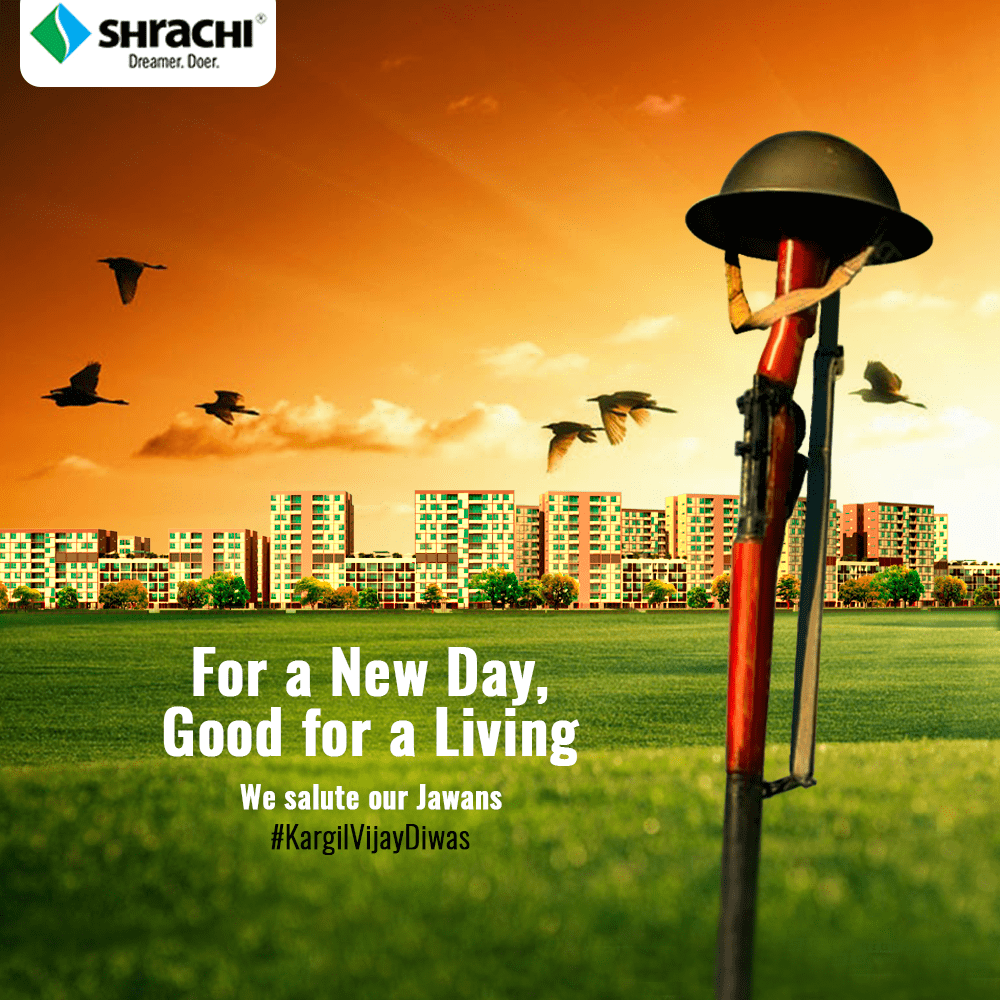 For a leading brand in real estate, we developed an idea from two important brand identifiers itself-Home and lifestyle! The soldiers and martyrs make our homes safe and secure by putting themselves on the line of fire. Thanks to them, we wake up each day with rejuvenated spirit to make each day great. Positivity in your Social Media marketing strategy always works, especially for real estate which is going through a difficult time.
Keep Moving Ahead!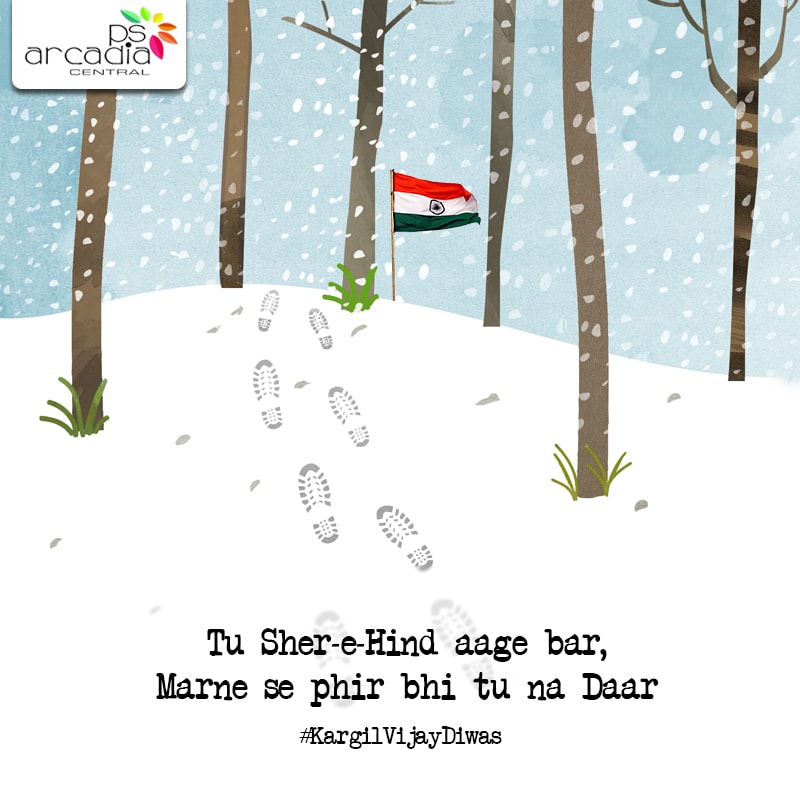 This social media post is not only a great martial verse but also an uplifting patriotic lyric. It bundles emotions and spirit, all in an energetic thought-capsule of encouragement for those in battle. Social Media marketing is not about one size fits all, as your media strategy changes drastically for different situations. Here we are not looking to send this message out to the infinite sea of social media audience but seeking to reach out to the members of a closed group thereby enhancing the brand's interpersonal relationship with its group members.
Salute!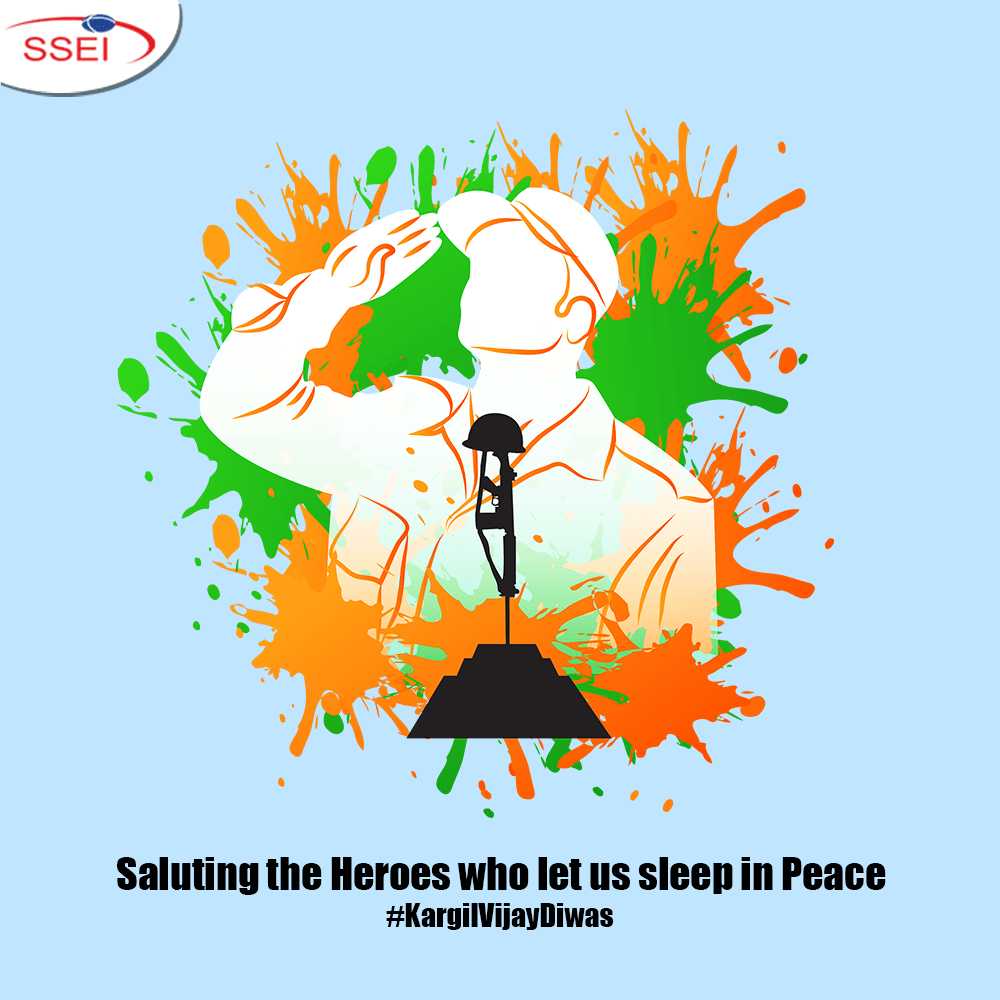 For a leading brand in financial education, SSEI, our approach was pretty direct and immediate as its audience comprise of young students who love things simple yet loud and clear. With a message that pays homage to the soldiers of our army because of whose relentless efforts we get to sleep in peace at the end of each day, this #KargilVijayDiwas creative is a hardcore testimony to their contributions. Young people surf social media all the time and hence lend marketers only a fraction of their attention to forward a message.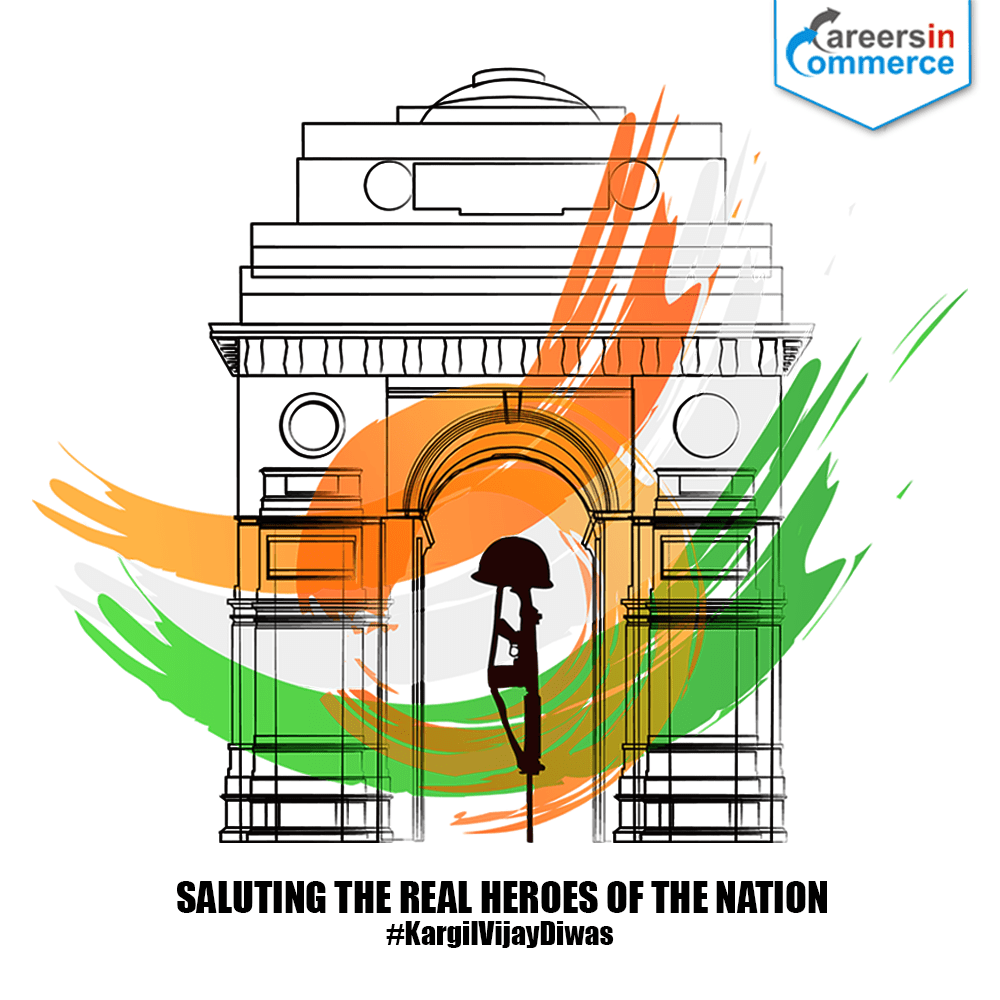 What better than to acknowledge and honour the many martyrs and soldiers who dedicate their lives for the nation's security, than to use the one of the most identifiable symbols of Indian martial history- India Gate, the most identifiable and visited war memorial of the country.
Advertising and Marketing on Social Media is almost like fighting a battle. One should not only be brave but also have the needed armoury in their arsenal to win the war. You can check out our creative arsenal and victory stories out here! Jai Hind!
And do not forget to share this blog with your fellow countrymen too!