As the hype of quality content takes the centre stage, it's time to help your content rank better by abstaining from posting 'unhelpful content'. At least, this is what Google's latest take on the helpful content update is grabbing the attention- Yay time for the writers, Nay time for the scammers.
The paradigm shifts from search engine first content to people first content
The time you dive into the digital ocean is brimming with content everywhere. From having a quick glance at a product or service information to gathering detailed insights on an alien subject, you have not only one but a hundred pieces of information online on the same subject, that either meet your search intent or tactically direct you to a business page. Such pieces are classic examples of irrelevant or unhelpful content that hardly adds any value to curious readers.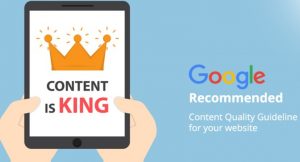 How to avoid writing unhelpful content?
With the dawn of people-centric content creation; All thanks to Google's helpful content update, kindly avoid the following:
No primary focus on search engine traffic
Aimlessly producing and posting content on different irrelevant topics for the limelight
No extensive use of automation
Avoid summarizing other's opinion
A big NO to trending but irrelevant topics
Forget the word count limit
Avoid writing flat content that doesn't tickle the reader's interest
This is where Google draws the line of enough of only business and prioritizes feeding the reader's quest first. Now, this was one serious goal that Google committed to accomplishing by launching a helpful content update on August 25, 2022, that rolled out as of September 9, 2022.
Factors that Google wants you to mind while writing helpful content for your benefit
Write to offer readers a satisfying experience that keeps them hooked to your page
Write helpful and information-stuffed content for your focused audience
Offer your readers superb writing with clarity
Use more precise terms over superfluous words to instantly relate with the readers
And last but not the least, follow Google's core update and product review guidelines to keep your quality content check at par
"The sole aim of this helpful content update is to encourage more original writing by humans for humans"
How does this helpful content update work?
With this latest update, Google launched a new site-wide signal which is similar to other signals in web page ranking. This signal will automatically detect those unhelpful content with poor readability and value.
This acts as a kind of content filter, that will display the most relevant and engaging content to the readers while hampering the ranking of spinning, flat, and completely irrelevant content. So, your chances of ranking will definitely improve with unique and quality content posting.
Just serve sufficiently to your readers and see the ranking difference.
How it can impact site ranking?
Sites with irrelevant content will have the update signal applicable to them for months, adversely impacting their ranking. This signal will also closely monitor the content for existing and newly launched sites. However, this automated classification will be over only after analyzing that unhelpful content has not been published for a while.
After the initial announcement of this update, many people in the search community were guessing that the update may be bigger than the Panda update which was rolled out in 2011 and left a big impact on the Search Industry.
But till the time Google announced that the rollout was over, no significant changes were found in the search to which Google's public Search Liaison Danny Sullivan said that the impact of the helpful content update will be more visible with broad core updates.
Currently, Google's latest helpful content update applies to English searches only and will soon be available for other languages as well. So, gear up with an all-new people-first content creation approach to get rewarded by Google and stay relevant to your readers.