If you missed our Digital Strategy Made Easy
Webinar which took place on 17th December, you can catch up on everything you
missed right here!
Panelists:
●     Amit Lakhmani – Founder and CEO, MaxMobility
●     Mitul Das – Co-Founder and CEO, UrsDigitally
●     Abhishek Chamaria – Co-Founder and Director, UrsDigitally
●     Mouli Basu – Sales Head, UrsDigitally
●     Priti Pandit – Growth Leader, UrsDigitally
●     Priyanka Mandhyan – Marketing Head, UrsDigitally
●     Nirupama Paul – Senior Digital Marketing Executive, UrsDigitally
The Insights:
Our webinar started off with an interesting
structure. All panelists had a role to play in a hypothetical situation. The
client (Mouli Basu) has approached the CEO of UrsDigitally (Mitul Das) for a
pitch on Digital Strategy. Mitul calls upon his trusted team for insights from
his martech expert (Amit Lakhmani), SEO Expert (Nirupama Paul), Content Expert
(Priyanka Mandhyan), Media Expert (Abhishek Chamaria), and E-Commerce Expert (Priti
Pandit).
Let's see what they all have to say!
The Client Brief
The company Tools India Pvt Ltd is an expert
in manufacturing. Until February, the brand thought that sales via online
mediums was not possible. Unfortunately due to the pandemic the on ground sales
team got affected. So how could they still garner sales?
Following were the asks:
●     ROI
●     Can a product like tools be sold online?
●     What should be the ratio of spends between organic and inorganic
mediums?
●     How can we build a tech stack and accumulate leads on one platform?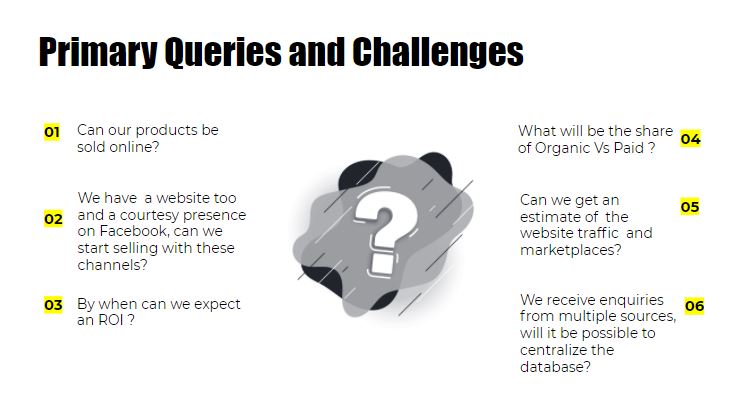 Digital Maturity:
●     1 Website
●     1 Facebook Page
See the detailed client brief here.
The Digital Strategy Process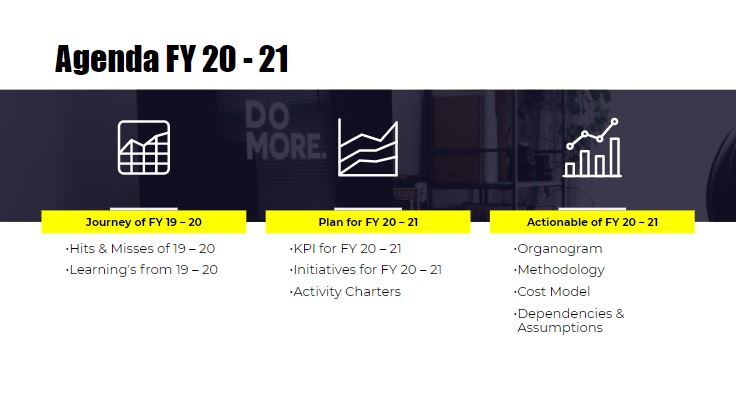 ●     Figuring out the pain points or Domain Analysis:
To complete a thorough domain analysis, you require an answer to the following
3 questions:
○     What was the journey in financial year 19-20?
○     What does the brand want to achieve in 2021?
○     What kind of actionables does that achievement require?
Tools India Pvt Ltd.
already has a website and Facebook channel but is not getting the results that
it truly desires. So the UrsDigitally team needed to know what happened last
year, what were the hits and misses, and what they were trying to achieve in
2021.
●     Understand the business KPIs through background research
Tools India Pvt Ltd had the following KPIs in FY19-20 as presented as a vision
map:


When working in digital marketing, there are many verticals. Whether it is SEO,
Content Strategy, Social Media Management, etc. Many times all these verticals
are treated in a compartmentalized way. But it is important to draw a vision
map, i.e., a visual representation of what is the common goal and what are the
aspects to be achieved for the goal, such as the one you can see above to bring
synergy to everything being done in digital marketing.
Going further into the KPIs, it is important to understand what was happening in the last two years in a comparative format.
Following was the analysis for Tools India Pvt Ltd: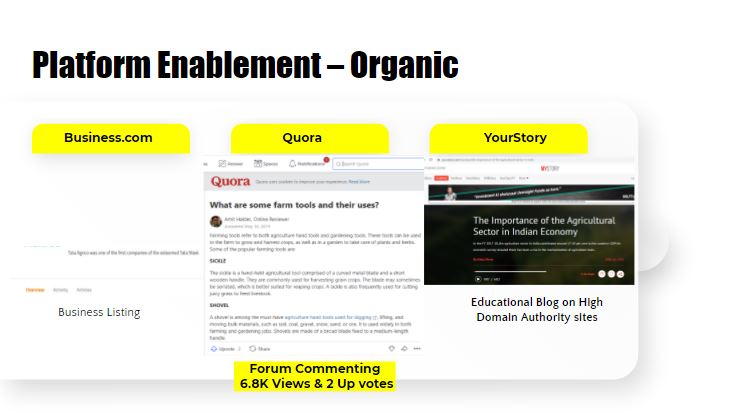 Some things that can be analysed include profitability, increase in number of
SKUs, number of channels or introduction of new channels, organic marketing,
etc.
After a careful analysis of the above data from Tools India Pvt Ltd, we found
the following:

We found these to be the most important takeaways:
○     Lack of integration between strategy and analytics
○     Inability to inculcate the voice of consumer
Since the consumers were mainly from rural areas, the brand was unable to
create contextual communication targeted to them.
The essence of strategy lies in understanding what the data is trying to tell
you, what your business objective is, what your consumer wants from you, and
ultimately how far you are from that goal.
Keeping that in mind, we found that the following KPIs were most important for
Tools India Pvt Ltd during FY 20-21: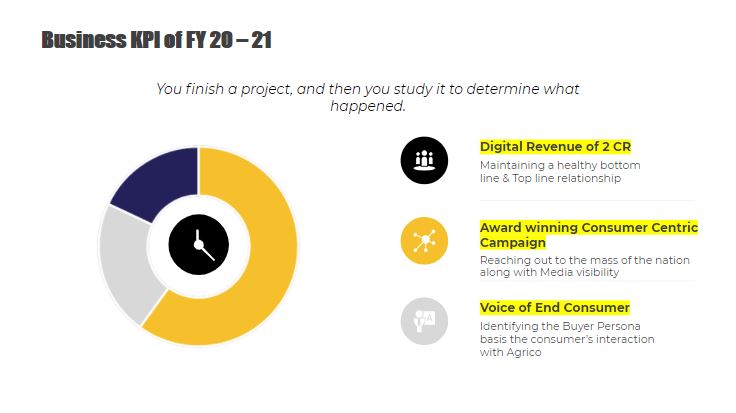 ●     Create vertical-wise strategies
○     The Martech Strategy
To create any martech strategy, it is important to first be clear with the
goals and map them with the kind of tools that would be required.
In the specific instance of Tools India Pvt Ltd, it is important to keep 3
components in mind as per the KPIs and domain analysis:
■     The tools and technologies that help keep them connected with
customers
■     Tech tools to streamline sales and marketing operations
■     Tools that can provide key measurement metrics and provide a
performance report
Step 1: Go through a basic checklist. This will map the current tech
maturity.
Find the full tech stack audit template along with an example of the audit
for Tools India Pvt Ltd here.
Step 2: Find the tools and apps that are fulfil the gaps
Step 3: Measure data and analyze
There are a few metrics that every business owner should be monitoring:
Metrics

What

Formula

Why its imp?

Customer
Acquisition Cost (CAC)

The Customer Acquisition Cost (CAC) is a metric
used to determine the total average cost your company spends to acquire a new
customer.

 

Sales & Marketing Cost = Ad Spends +
salaries + commission/bonuses + overhead in a month/qtr/year

New Customers = Number of new customers in a
month/qtr/year

CAC = Sales & Marketing Cost / New
Customers

 

CAC illustrates how much
your company is spending per new customer acquired. You want a low average
CAC. An increase in CAC means that you are spending comparatively more for
each new customer, which can imply there's a problem with your sales or
marketing efficiency

 

 

 

Marketing % of
CAC

The Marketing % of Customer Acquisition Cost is
the marketing portion of your total CAC, calculated as a percentage of the
overall CAC

 

Marketing Costs = Ad Spends + salaries +
commission/bonuses + overhead of the marketing department only

Sales & Marketing Cost = Sales &
Marketing Cost = Ad Spends + salaries + commission/bonuses + overhead

M % – CAC = Marketing Cost / Sales &
Marketing Cost

 

The Marketing % of Customer
Acquisition Cost is the marketing portion of your total CAC, calculated as a
percentage of the overall CAC.

 

Customer
Lifetime Value (LTV)

Customer lifetime value is a metric to
determine the total revenue that one customer gives during its lifetime

Lifetime Value = Revenue the customer pays in a
specific period * average customer lifespan

 

 

Ratio of LTV to
CAC

The Ratio of Customer Lifetime Value to CAC is
a way for companies to estimate the total value that your company derives
from each customer compared with what you spend to acquire that new customer

 

LTV / CAC

The higher the LTV:CAC, the more ROI your sales
and marketing team is delivering to your bottom line. However, you don't want
this ratio to be too high, as you should always be investing in reaching new
customers. Spending more on sales and marketing will reduce your LTV:CAC
ratio, but could help speed up your total company growth

 

Time to Payback
CAC

The Time to Payback CAC shows you the number of
months it takes for your company to earn back the CAC it spent acquiring new
customers.

 

CAC / Margin-adjusted revenue from the customer

In industries where your customers pay a
monthly or annual fee, you normally want your Payback Time to be under 12
months. The less time it takes to payback your CAC, the sooner you can start
making money off of your new customers. Generally, most businesses aim to
make each new customer profitable in less than a year

 

Marketing
originated customer %

The Marketing Originated Customer % is a ratio
that shows what new business is driven by marketing, by determining which
portion of your total customer acquisitions directly originated from
marketing efforts

 

Marketing originated customer %

=

New customers originated from marketing lead /
New customers in a month

This metric illustrates the impact that your
marketing team's lead generation efforts have on acquiring new customers.
This percentage is based on your sales and marketing relationship and
structure, so your ideal ratio will vary depending on your business model. A
company with an outside sales team and inside sales support may be looking at
20-40% Margin Originated Customer %, whereas a company with an inside sales
team and lead focused marketing team might be at 40-80%

 

Marketing
Influenced customer %

The Marketing Influenced Customer % takes into
account all of the new customers that marketing interacted with while they
were leads, anytime during the sales process

 

Marketing Influenced customer %

=

Total New customers that interacted with
marketing / New customers In a month

This metric takes into account the impact
marketing has on a lead during their entire buying lifecycle. It can indicate
how effective marketing is at generating new leads, nurturing existing ones,
and helping sales close the deal. It gives your CEO or CFO a big-picture look
into the overall impact that marketing has on the entire sales process.
●The Search and Organic Strategy
Step 1: Website Audit and Competitor Analysis
This helps us know the issues that need to be fixed. The competitor analysis
adds on by providing an insight into the backlink strategy and keyword strategy
of the competitors and where your brand can grab at an opportunity.
Step 2: Keyword Research
Selecting keywords in which search volume is high and competition level is low.
A mixture of high to low competition level is usually good to have. Tools like
Google Trends, Keyword Planner, SEMRush and Ubersuggest can be used to search
for these keywords.
Following are the keywords shortlisted for Tools India Pvt Ltd:
SEO and Paid Keywords

Keyword

Avg. monthly searches

Competition

Suggested Bid

hoe
agriculture

1600

Low

5.16

agriculture
hand tools

880

High

14.3

farm hand
tools

260

High

5.72

hand
ploughing machine

140

High

3.8

agri hand
tools

90

High

3.92

agriculture
weeder machine

90

High

13.98

agriculture
hand machine

70

High

6.62
Step 3: Find the Specific Target Audience for Google Ads
Targeting based on geography, types of websites and apps, and mapped against
your various target audiences is one of the best ways to get good results from
Google Ads.
Following is the targeting for Tools India Pvt Ltd:
Location

Popular News Website

Andhra Pradesh

Deccan Chronicle

Eenadu

Sakshi

The Hindu

Andhra Jyothi

Daily Hindi Milap

Regional Magazine

https://www.manoramaonline.com/home.html

http://www.saptahiksakal.com/

TV Channels

Sun TV

STAR Vijay

Kappa TV

Colors Kannada Cinema

Karnataka

https://www.udayavani.com/

https://www.prajavani.net/

https://www.kannadaprabha.com/

https://vijaykarnataka.com/

http://vishwavani.news/

http://sanjevani.com/sanjevani/

http://www.varthabharati.in/

Tamil Nadu

https://www.dailythanthi.com/

https://www.dinamalar.com/

https://www.maalaimalar.com/

http://www.dinakaran.com/

Kerala

https://www.manoramaonline.com/home.html

https://www.mathrubhumi.com/

https://www.mangalam.com/

Maharashtra

Jai Maharashtra

News 18 – Lokmat

TV 9 Marathi

West Bengal

Zee 24 Ghanta.

ABP Ananda.

News18 Bangla.

Channel 10.

Kolkata TV.

Hoichoi
TG – Farmer Specific Placements

 

Name

Websites

vikaspedia.in

Mobile Apps

MyAgriGuru

Kisan
Suvidha

IFFCO
Kisan Agriculture

RML
Farmer – Krishi Mitr

Pusa
Krishi

AgriApp
General Placements

 

Name

Websites

cricbuzz.com

cricinfo.com

Indiamart.com

justdial.com

news18.com

Amazon.in

onlinesbi.com

snapdeal.com

Yahoo.com

Primevideo.com

Irctc.co.in

Paytm

PNBIndia.in

bankofbaroda.in

canarabank.in

Indiatimes.com

unionbankofindia.co.in

Mobile
Apps

WhatsApp Messenger

Truecaller

SHAREit

JioCall

MX
Player

Hotstar

Gaana
Music

Candy
Crush Saga

Gmail

Dailyhunt

Paytm

Xender

Amazon
India

Wynk
Music

Voot
Step 4: Plan for Organic Distribution
Whether it is Facebook groups, LinkedIn groups, guest blogging sites,
infographic sites, forums, or presentations sites, it is important to be
present everywhere after carefully choosing the platforms on which your
customers are present and mapping out these platforms Target-Audience wise. Once
platforms are chosen, you just need to chart out your content and provide links
to your website to improve your rankings!
Here's a look at the organic distribution plan for Tools India Pvt Ltd:
TG

FB Group

Member

Farmers

2,965

Construction
Workers

All India
Construction Group* … All Building works

36,011

Farmers

Agriculture
talk & farmers of Karnataka. India

7,765

Farmers

AGRICULTURE
TOOLS EQUIPMENT MACHINERY AND IMPLEMENTS

22,046

Farmers

INDIAN
FARMERS

12,950

Farmers

Agriculture
Talk & Farmers of South India.

124,993
TG

Forum Group

Member

Farmers & Dealers Distributor

https://www.quora.com/q/aboutagriculture

26.4K

https://www.quora.com/q/agriculture1

40.7K

https://www.quora.com/q/agricultureinfo

7.4K

https://www.quora.com/q/farmingtips

4.3K

TG

Forum Question

 

Farmers & Dealers Distributor

https://www.quora.com/What-is-the-importance-of-hand-tools-in-farming

 

3rd Party Content sharing Website

Website Traffic

https://medium.com/swlh/2020-trending-the-future-of-farming-agriculture-bb2f7029e950

10.7M
Find the SEO
planning template here.
●The Content Strategy
Step 1: Determine the goals and Target Audience
Since the goals have been defined in the domain analysis and KPI understanding
steps, we need to look at our target audience in a deeper way.
That's where Buyer Personas come in.
While determining a buyer persona, there are few things you need to research
about your target audience:
○     A fictional name
○     Intended job profiles
○     Demographic details
○     What metrics their job performance depends on
○     Who they report to
○     Who are they influenced by
○     Who do they influence
○     Which resources they trust
○     Which platforms they spend their time on most
○     What a day in their life looks like
○     Their interests, likes and dislikes
○     Their favourite TV shows, books, etc.
Here's a template you can follow.
This process allows
you to humanize your target audience and understand what they really care
about. It also gives you an insight into what kind of content you can create
and through which channels that would convince them the most.
Here's a buyer
persona for Tools India Pvt Ltd:
Step 2: Topic Research
Using tools like SEMRush,
Ubersuggest, Buzzsumo or the rest, it is now quite easy to see what is trending
on search engines for your specific keywords as determined by the SEO
specialist. Just insert the keyword, choose your region, and you're good to go!
Choosing a topic that
has a high search volume is definitely a good move. But SEMRush also gives an
idea of the kind of questions people are asking about the topic. Answering
these questions through blog or social media posts gives immense value and
increases search rankings.
Here's what SEMRush
has to show about Tools India Pvt Ltd's keyword hoe agriculture:
Following the
results, we can definitely create a pricing guide for garden tools and write a
blog post about the most common farm tools and equipment.

Step 3: Make a Content Plan
It is important to
make a detailed content plan that lays out all your goals, KPIs and desired
results, and mapping your content to those goals.
The content plan also
includes:
●     Funnel – wise Mapping
We map the content according to the sales funnel we follow in UrsDigitally:
○     Lead Magnet – a piece of content that attracts your target audience
so that they provide their information.
○     Nurture- Keep communicating with the audience to keep them
interested in your brand
○     Tripwire- Offer the most engaged people a free offering so they at
least try your product
○     Core Product- Market your main product to people who have already
tried it by providing benefits or discounts
○     Profit Maximizer- Upselling or cross-selling products to an audience
that has already bought from you
○     Return Path- Keeping the audience loyal to your product through
loyalty programs and offers
So what pieces of
content will you use as a lead magnet, how will you nurture your leads, what
will you offer so the audience tries your product, what features will you
promote of your core product, how will you upsell or cross-sell, and how will
you keep your audience loyal. Furthermore, what platforms will you use to
conduct these activities?
●     Target Audience – wise Mapping
The same content can
be divided as per the different target audiences you are targeting.
In case of Tools
India Pvt Ltd, since our target audiences are plumbers, farmers, gardeners and
the like, dealers and distributors, and people who like to try DIY projects, we
need to plan content for each one of these target audiences and define it in
our content plan.
●     Platform – wise Mapping
Charting out your social media calendars, email marketing calendars, blog
calendars is something you need to do in your monthly content plan itself.
Do remember that it
is good to post at least 3 posts on social media per week, 4 blogs on your
website, 3 blogs on platforms such as wordpress, blogger, and medium, one
infographic on infographic sites and one presentation on presentation sites.
This forms a good backlink and SEO strategy as well.
For Online
Reputation Management, it is recommended to answer 1 Quora/Reddit/Answer per
day and answer negative reviews taking it as constructive criticism.
You can find a
monthly content plan template here.
View the content
plan of Tools India Pvt Ltd here.
●     The Media Strategy
The first and
foremost thing to understand before starting off the Media Strategy is to
understand how the sales are doing currently. What is the amount of sales you
are getting versus the amount you are spending on marketing?
Step 1: Understand the number of new customers needed per month
Step 2: Calculate the Customer Acquisition Cost

Step 3: Measure your Cost Per Lead for the campaign once executed
Step 4: Measure the ROI for the campaign once executed
While running the
campaign, it is important to retarget the people who have interacted with your
company. Facebook allows for multiple types of custom audiences who are people
who have either interacted with your posts, page, videos, or lead ads. You can
retarget people who filled your lead form but didn't submit it, creating
targeted communication and so much more.
Find the media
template complete with formulae required to complete all of the above steps here.
View the media
plan of Tools India Pvt Ltd here.
●     The Commerce Strategy
Since ROI is
important for every brand and the commerce marketplaces such as amazon,
flipkart, big basket, grofers and more have started gaining value, digital
sales depends heavily on such platforms.
Step 1: Analyze the sales platform-wise versus marketing budget
This will cover in
detail what is the minimum and maximum marketing budget required, what has been
the performance over the past year, what has been the assistive spend (that is
marketing budget on other channels leading to the ecommerce portal), what are
the new portals that can be considered and the associated paid and organic
activities, as well as the assistive marketing plan.
It is important to
decide which products need paid optimizations and which ones require organic
optimizations. Organic optimizations would include reviews and product
description SEO.
You can find a
template for defining these parameters here.
The commerce plan
for Tools India Pvt Ltd can be found here.
Step 2: Measure the impact
Measuring and
garnering insights from each of the above activities is extremely important to
improve upon the strategy the next time. The reporting needs to involve the
revenue report, target of new portals to be added, product optimization and
addition report, ad campaign report, assistive ads report, and organic listing optimization
report.
You can find this
reporting template here.
The report for
Tools India Pvt Ltd can be found here.
Keep an eye out for more such webinars coming
your way soon!