"It is better to travel well than to arrive."- Buddha
It's no wonder that the enlightened one referred to travelling throughout his discourses. After all, life comes full circle with travelling. A friend of mine, who's also a colleague, brought into my attention something that got me thinking. He was talking about taking a break from work for the weekend and travelling all horns out.
He managed a world tour and broke Phileas Fogg's record of travelling the world in just 80 Days! He did it in 80 hours. How??
Google Earth man!
A digital world we live in. Truly!
The 28th of September of World Tourism Day and it was the perfect opportunity for us to vent our love for travelling through Facebook ad creative. Well, if you can't travel due to the workload, you can at least make it up by making some insane ad creatives that will help brands and businesses travel the complex labyrinth of the Facebook universe.
Get it? Branding Exercise using Facebook posts?
No?
Well, Social Observance Days like World Tourism Day help brands reach out to a wide range of TG by driving engagement. On Social Media, engagement is a key aspect. Since the platform is largely informal in nature, reaching out to the audience becomes much more interactive through such wish posts, thereby driving brand recall value.
As usual, our digital playground for virtual brands – Classyfrieds got some interesting takes on imaginary Facebook ads that position their brand ethos on World Tourism Day.
Let Them Take A Ride with Your Imagination!
Challenge: Imagined for an imaginary Travel Agency (inspired by real), the challenge here was to represent the affordability of their travel packages in comparison to the others. Well, it's World Tourism Day. Isn't it?
We took a classic route here, playing with wordplay. Two travels standing on the Europe map in an Atlas. The copy, 'Atlas(t) they reached Europe' enunciates the punning on Atlas and Atlast, thereby pinning the idea of tourism with aspiration. Aspiration is a key aspect in any ad, no matter on digital or traditional mediums. Certain things never change.
Challenge: Imagined for a mineral water brand, it was important for us to reach out to a sizeable social media audience. The age old fresh pure mineral water and glacial imagery would not quite be impactful especially when you are trying to communicate on a social observance day, this one being World Tourism Day.
In India, a recurring motif or identifiable factor of a tourist is the mineral water bottle in the hand; especially with foreigners. It is part of popular humour too. Again a classic take on wordplay, the copy 'When you're playing Touristy' is a fun take on the tagline 'When you're feeling Thirsty!'. The subtle humour was a hit on Facebook and was essential in making this ad instrumental in terms of standing out from the lot and improving Brand Persona since mineral water ads are normally the same old pure drinking water stuff.
The fun bonus!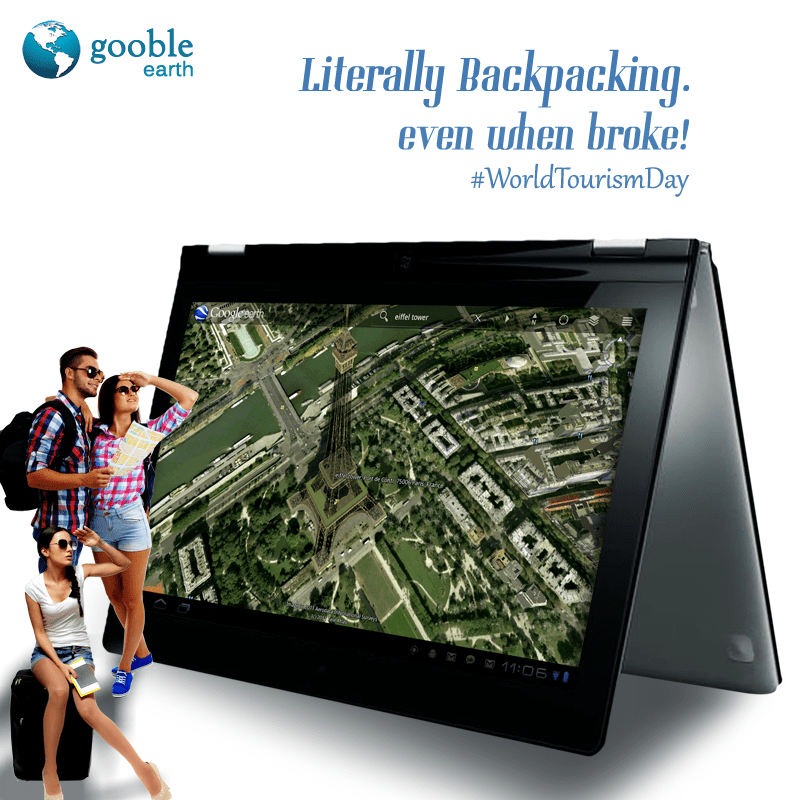 Well, we imagined this ad for very famous satellite map software online. We all know the name. Yes my friend did go around the world in 80 minutes with zero expense. Boom! Digital exploration man! With a TG of loads of youth and young professionals who love travelling but are unable to because of lack of time or money, this has a high audience interest rate. Let's capitalise the hell out of it. That's how Facebook ads work. Make sure your content has high audience interest and distribute it among curated group of TG for maximum response and engagement.
Invoke Curiosity!
Challenge: Often times, the Social Observance Day being celebrated directly correlates to the service or product the brand stands for. For a popular resort brand, making a World Tourism Day post was important. Here the challenge was to integrate the service or invoke curiosity about the service among the TG without running the risk of sounding very 'sales-y'.
This ad is inspired by the counterculture ads of the 70's as far as design elements are concerned. Simple juxtapose a few happy travellers, and the resort itself with the earth in the sky to denote an other-worldly theme. The resort is situated a little away from the bustle of the city so the copy also signifies that. Though many city dwellers know it as a weekend getaway, it was important for us to place it as a vacation getaway for outstation tourists as well, since the property is laden with acres of greenery and natural turf. This drew quite some audience response online.
Ask Your Audience – Evoke Response!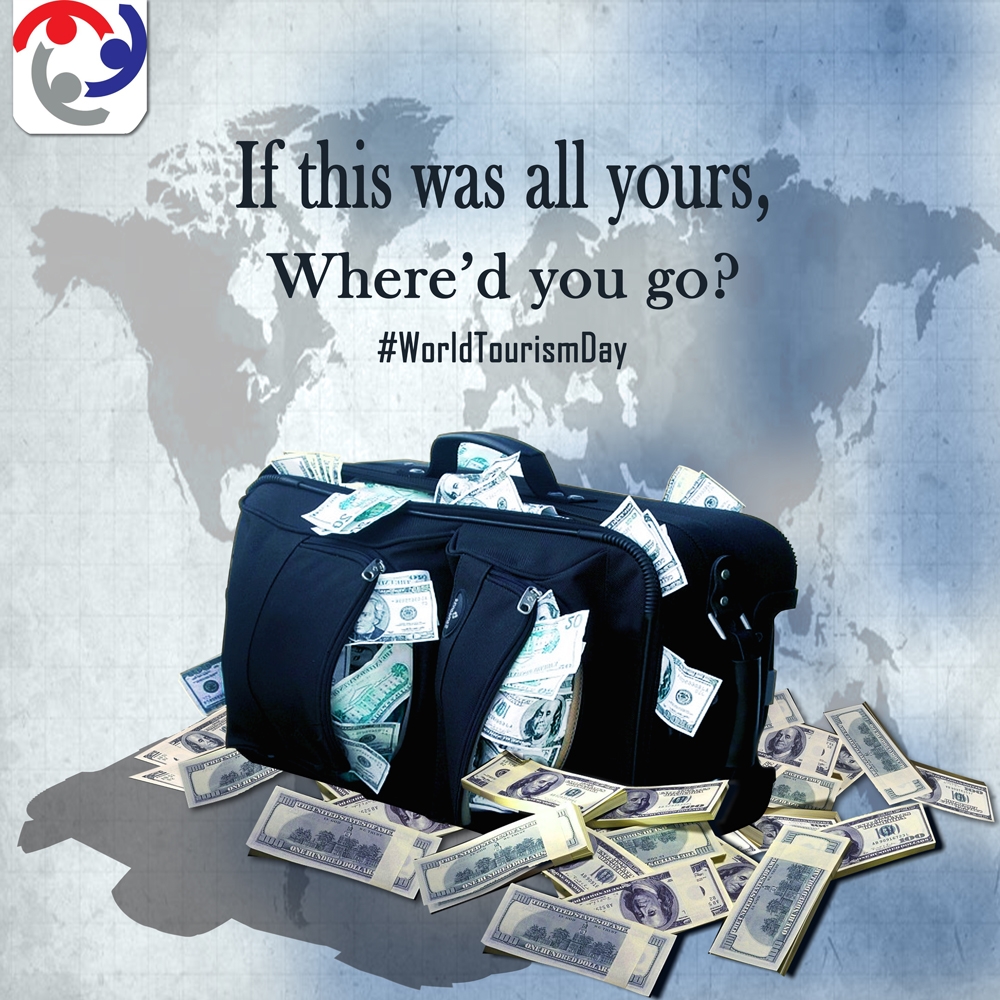 Challenge: For a closed Facebook group of a professional complex, it is important for us to keep their Facebook community busy and communicative. Audience Engagement is the most important aspect here to drive Brand goodwill, since all the members of the group are employees themselves.
This post simply asks you to comment light-heartedly. Within few minutes of posting it, it instantly became a chat-box in the comments section. If you can get a few bored and serious professionals talking and chatting in no time, a lot has been achieved.
Looking to make sure your Brand travels far and wide on Social Media? Get in touch with us right away!