Marketing for a brand or business online is not as easy as it sounds when someone explains it. It's almost like Buddha's quest to Nirvana- a transcendental affair! But thanks to the ever changing digital ecosystems that is geared towards a better customer experience, each day us marketers are presented with new challenges. Challenges are good! It makes us marketers vigilant and focused! Voila! We improve each day.
The World has over 7.4 billion people and over 3.6 billion of them use the internet on a daily basis. That's almost about 50 % of the world population. That solely should tell you about the massive marketing potential it has. But while it has made it easy to reach out to your TG, marketing exercises aren't as straight cut as it was before the internet found Social Media. It's way more dynamic these days.
On Social Media thesedays, people are bombarded with information every second and it's difficult to make an impression on your audience. It's an informal space for god sake!
But if marketers pick up mass impulse on Social Media, chances are it's going to help. For instance special observance days like teacher's day, molecular biology day, Independence Day and stuff like that has great mass engagement potential. And each day carries a different emotion. Emotion is the most powerful marketing tool, whether online or off it. So if you are a brand make sure you get your Digital Marketing agency or manager to put out communication posts or ads pertaining to these special days from time to time. It works well for an improved brand image. It's a great way to fuel your brand's recall value and broaden the customer base.
The 8th of September, of each year is celebrated as the International Literacy Day, since 1966. An estimated 785 million people seem to have no access to education all around the world. That's alarming!
The day carries a lot of public interest in terms of emotion, social drive, motivation and commentary. Quite simply it gets people talking and everyone wants to be part of the drive to shoo away this cancer among us- illiteracy. On Social Media, brand should get talking too. You know, cover some bases, and participate in the cause. Well, that's what we helped some brands do. Create fun Facebook ad posts that helped them garner great engagement on social media. Ideating for the event was an empowering and highly emotional course but it had its bits of greys and whites in between the caffeine and tobacco breaks.
The Greatest War Ever
In the past month alone, over 46, 00,000 videos were viewed on social media. While it just accounts for a little over 30 percent of all branding content on social media, its capacity as a storytelling and communication medium makes it a strong digital marketing tool. We created a video for Magne's own International Literacy Day campaign. Our research led us to discovering something most people ignore. The deep rooted illiteracy around the world is deeply linked to a war that has been waging since 1966. Hidden in plain sight, the war is the longest running war in human history. Didn't know about it?
Cannot figure out the ROI of yourSocial Media Marketing? Why don't you get in touch with us right away, and get a FREE consultation!
While we did imagine fun posts for our clients, sometimes you end up with more ideas than you could use. Well, ideas never go for a waste. We extended our imagination a bit longer to turn these ideas into posts for imaginary brands inspired by the real.
Forget Embarassment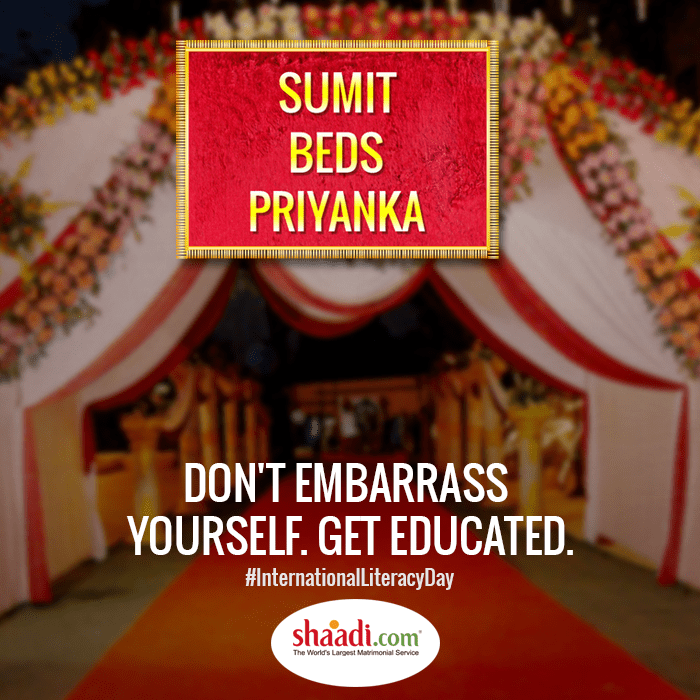 Brand: Snaadi.com
Industry: Matrimonial Website
Target Audience: Single Adults of Indian Origin
Ideation: Marriage and Comedy go hand in hand. If you have grown up in India, you must've been privy to major typos in everything from news reports, shop names to wedding decorations. Marriage which is already an event filled with embarrassment, you could at least save one by getting yourself educated. For a brand not remotely close to the education sector, to plan apost like this for literacy Day hits the ball out of the park. We are talking about Brand Communication and Identity!
Evolve!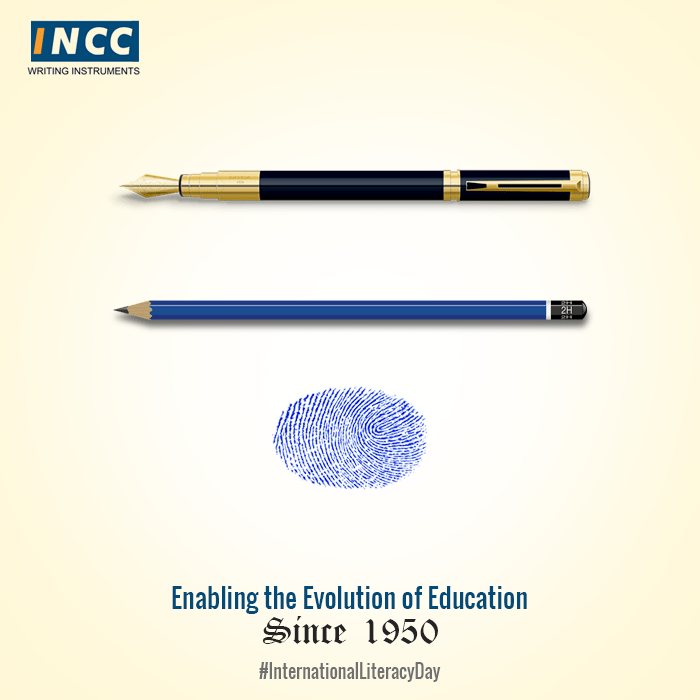 Brand: INCC
Target Audience: Students and professionals
Industry: Writing instruments and stationery
Ideation: For a brand directly linked to the education sector (at least around its periphery.), floating a post on literacy day on social media is a must. The above ad drives brand identity as an enabler of literacy. This helps the brand avoid a preachy stand, which works well for Social Media. Branding content along with Product marketing, that's what you call a perfect social media ad post.
Cannot figure out the ROI of yourSocial Media Marketing? Why don't you get in touch with us right away, and get a FREE consultation!