Being one of the die-hard patrons of the Digital marketing industry in India, I try to keep myself abreast with all the latest happenings in the digital world. But with so much of latest developments, and so little time in our hands, we tend to miss a few significant ones out.
This made me think, why should any digital enthusiast miss out on any of the latest digital marketing trends?
And that, folks, prompted me to start with this series (of blogs) that will not just keep you updated on the recent trends in marketing but also tickle your funny bone a bit. After all, we all need a little dose of humour in our daily grind, right?
In a nutshell, this is a cartoon based playful series of digests featuring the latest / upcoming developments in digital marketing that may impact your business.
Rapid decline of FB Organic Reach on your news feed
"Have you noticed that the reach and thereby the engagement of your Facebook organic posts are going down month after month?" Our Social Media team lead came rushing to me and dropped the statement with a grim face. "These days, I can hardly view the posts from the pages I like", the senior Content Writer joined in to the conversation.
The entire room was filled with the buzz. That moment a man dressed in shiny formals and with geeky glasses on, the Senior Digital Marketing executive interrupted the hum by announcing the argument placed by Facebook. A typical user has loads of friends and likes multiple pages… but there is limited space in a user's news feed. Now, Facebook wants to give more weightage to content from friends and family and less to that of businesses, and it does make sense! As a user, how would you like it, if when you log in to your account and instead of seeing your nephew's cute pictures or the vacation and wedding updates of your friends, you just see hundreds and thousands of posts from business pages you liked?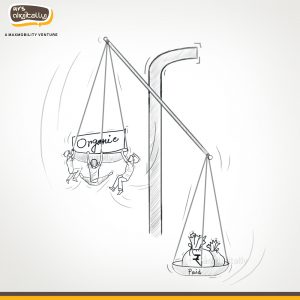 Yes, the social media world has been buzzing since the official statement from Facebook came in the mid of January 2018. Well, the bottom line is that businesses who want to reach their target audience on Facebook, advertising will be the only way to do so. Since there will be limited space on the Facebook newsfeed, the ad costs on Facebook will increase further.
The 280 character Tweet Expansion!
Our usually chirpy bunch of content writers seems to be a bit depressed ever since twitter announced the change in tweet character limit to 280 characters. I heard that one of the guys had a bad dream about it too! "Now we have to elongate the communication in Twitter", said one of the Content Writers. "Now the creative tweets will be replaced by boringly long ones", remarked another. "How can they take away the originality of the platform?", exclaimed the most vocal one in the team!
Like many fans of the platform We too feel that the decision to increase the limit to 280 characters is not a very bright idea.
Exploding growth of Facebook Live – Broadcasting the Blast!
A few days back, our sales head was really furious with his team, the obvious reason being the 'downfall of sales'. While his uproar was heard well from across the room, our media manager was smart enough to take full advantage of the situation. He covered the whole scenario on Facebook live and voila! The live video got more views, shares and likes than any of our recent posts! Now this surely explains the 4x growth in Daily Watch Time of Facebook Live (since its launch in 2016).
On a serious note, live video is one of the most hot trends now. With Facebook publicly admitting that they give a great weightage to Live broadcast than the normal videos, brand marketers must create a good strategy around this to increase their visibility online.
The Rapid Adoption of Cloud Storage is faster than you thought
This is seriously non-fiction. As a hardcore digital enthusiast, I talk a lot about cloud solutions and all over phone with my colleagues and buddies. I had no idea that my mom had been listening to my conversations too. My mother seems to be on cloud nine discovering this new unlimited storage thing called 'cloud'!
No wonder! Little did I know that my mom too turned so geeky! Typical moms around us are like this. Rare moms are those, who can operate Facebook quite smartly, without embarrassing you by putting up some 'unwanted' comments, or knows how to take a selfie, even better than you!
Now, you call this the generation gap, we call this humour! Every age, every generation, is defined by its technologies and its own humour.
For business owners, this means it's time to seriously consider your existing services to migrate to cloud. The time is right. Solutions have become very affordable; downtime is very little; and migration is easier than ever.
Only piece of advice here is that you must choose an expert who can oversee this entire process. Whether you hire an external consultant or an agency, they should create a roadmap and document the process before implementing the migration.
[Food for thought] Trying out differently may not always yield results, but …
The great monk Swami Vivekananda once said that each work has to pass through three stages – ridicule, opposition, and then acceptance. Those who think ahead of time are sure to be misunderstood.
In the world of marketing, nothing can be formulaic. The magic sauce is the power of thinking. There is no right or wrong.
To stand out in the middle of so much information, We need to experiment newer things. Expand on our past experience, and create something new.
Not every idea can be clicked, and even would be ridiculed – but that should not deter us from experimenting.