A day after the Uri attack, Facebook was abuzz with #UriAttack to voice their opinion against the rampage that was wrought at an Indian Army base in Jammu and Kashmir. A few months back there was the Pathankot attack. And guess what? There were commentary eruptions on Facebook. Kashmir curfew, War against ISIS, Dalit confrontations and more! The world is dripping in violence and one place knows it best- Facebook. In the past year alone, there were over 1300 #tags that had something or the other to do with some kind of violence or unrest. It's hot topic!
Brands should never indulge directly in such commentary online as that may adversely affect their online reputation. So in such a scenario how are Brands or businesses supposed to use such dynamics to help forward their own brand identity?
It's simple! Use certain Social Observance Days like Father's Day, Mother's Day and the likes (these days have a high interest quotient among the Facebook populace too) to propel a communication to bring notice to your brand. That's how you build your brand's social media identity in a positive way, thereby amassing Brand Recall Value.
The 21st of September is celebrated as the International Peace Day. Here is how we used the buzz around the event to creative ad posts and videos to help generate engagement for various brands on Facebook for better brand resonance and identity.
'Peace'd off by Violence?
Video and visual content is a hit on Facebook. Ever since Facebook video tagging has become more optimised, it has become easier to reach out to a wider array of the TG. Also the audience are responding to Video and visual content (like GIF's) well. For Magne's own #InternatonalPeaceDay campaign, we chose to go the video way. In the recent past, India has seen a good amount of violence. In wake of such a scenario, how are we dealing with it to achieve Peace, or has Peace become a confrontational excuse to avoid dealing with the matter in real sense. In wake of anither such attack in Uri, it's about time we saw Peace in new light. Find out the whole story here….
Facebook Ad Posts
Facebook ad posts allow you to represent Brand persona, products and services in a light and informal way. The audience has been responding well to these ad posts and it is an essential part of any Facebook marketing strategy. Here are few of the best examples of what we came up with for few of our clients for their #InternationalPeaceDay campaign to substantiate a high rate of engagement on Facebook, thereby boosting Brand Equity, identity and of course, it's recall value.
The peace amidst sound!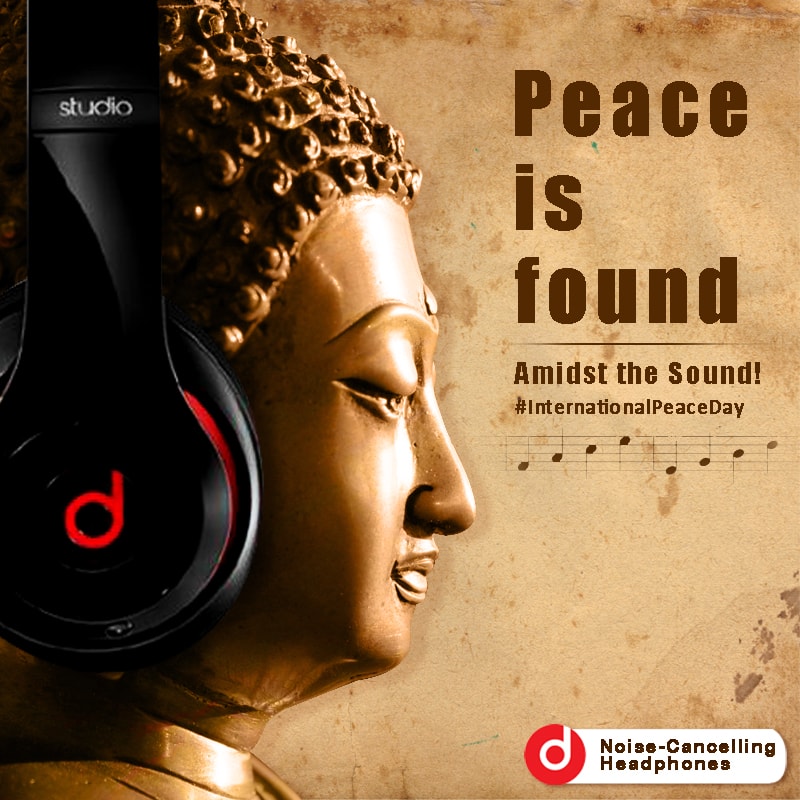 Challenge: Imagined for a brand of audio equipment and headphones, this creative ad seeks to build product identity through Facebook engagement. The challenge was to advertise the brand's line of noise-cancellation headphones indirectly without sounding like a sales ad. The challenge was to capture the premium quality of the headphones through this ad without swaying away from the ambit of Peace.
Buddha is a universal symbol of peace. He spoke so much about silence and chaos that using Buddha's face as a motif for Peace Day was the first thing that came to mind. I mean there couldn't be better ambassador for anything that has to do with peace. The copy which reads 'Peace Can be Found, Amidst the Sound', the product persona is established on various levels. Firstly, the copy seems to suggest the bliss in perfect noise-cancellation and thick full audio output from the headphone. After all, is there anything more peaceful than listening to sweet music through a pair of killer headphones?
Finding the right Peace!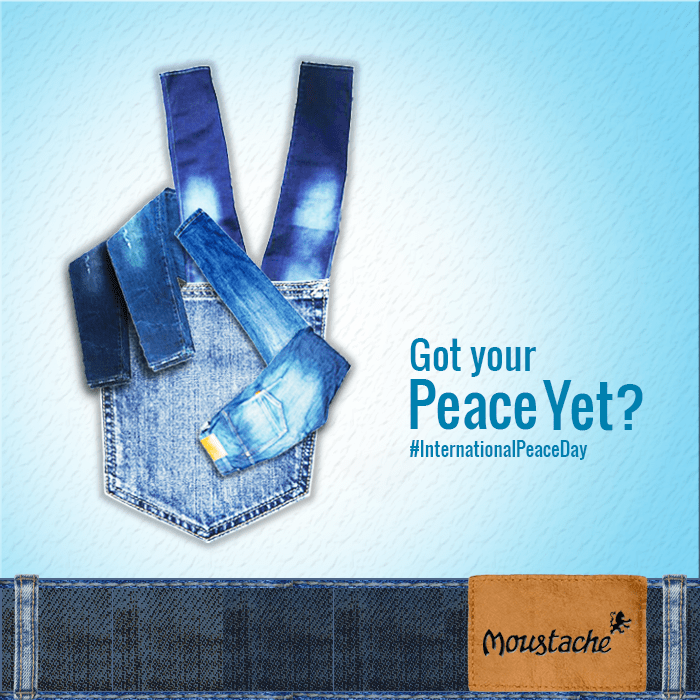 Challenge: Since the TG is fashion conscious youth, young adults and middle aged fashion conscious people it was necessary to reach out to them with a crisp ad with a breezy communication which also establishes the product identity without sounding 'Sales-y'.
Well, the peace 'V' sign has left its mark in mass consciousness. It is the single most identifiable symbol when it comes to peace. Designed for a popular denim wear and apparel brand, this ad features a hand showing the Peace 'V' sign made completely of the brand's denim, it has a high level of product identity quotient as well as mass recall. The copy is a smart take on finding Peace and finding the perfect 'piece' of denim.
A slice of Peace!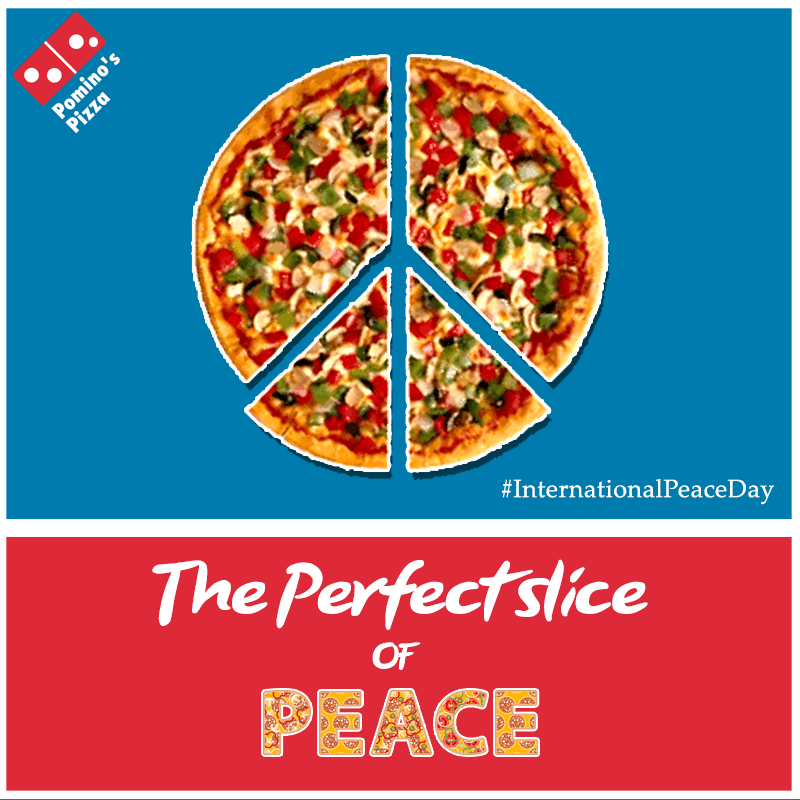 Challenge: For a popular Pizzeria who's TG includes people of all age groups of the urban population the challenge was not in establishing the brand identity. But the challenge was to expand visibility on social media. We decided to a simple engagement ad with the goal of making it highly 'Share'-able on Facebook.
Who doesn't like Pizza? Pizza is comfort grub. It basically is synonymous with chilling. So for peace day, it's ardent that you don't start sounding preachy. Let's face it. Who wants to get all cerebral when it comes to Pizza? With Pizza slices placed like the peace sign and a copy that totally captures the soul of a Pizza, which is nothing but Peace, this ad is simply an engagement ad. This ad has high 'Share' potential. The emotional connect with Pizza is a massive opportunity for marketers to play with and drive the ad to gather more likes, comments and shares on Facebook, subsequently raking up on Brand Recall Quotient.
Shanti Peace!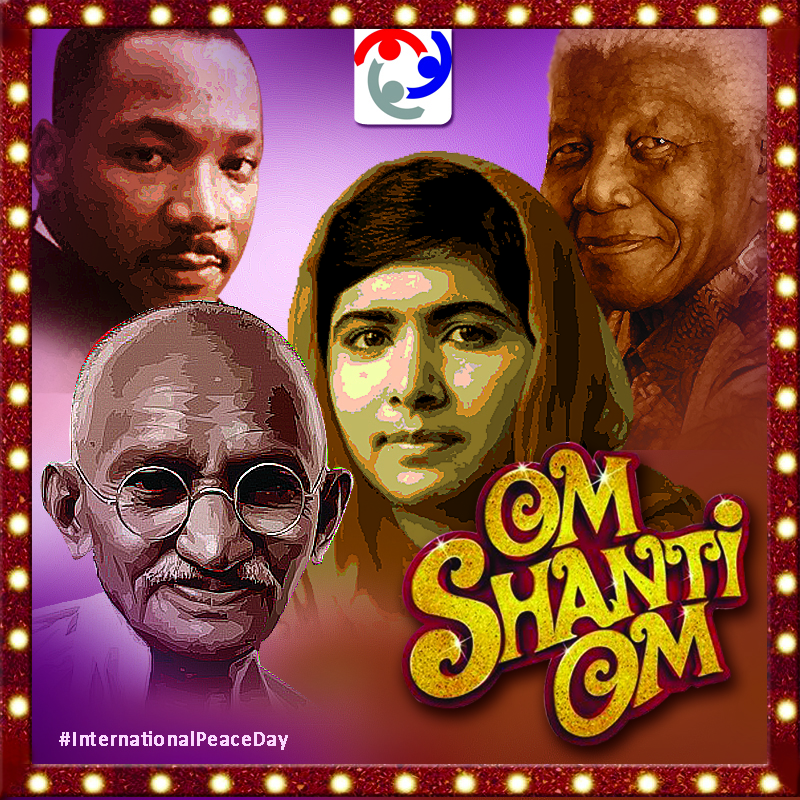 Challenge: Designing ads and marketing communication material for a closed group is a whole different ball game. Designed for a closed community on Facebook for a professional organisation, the aim of any creative that goes on the page is not to advertise any product, service, or brand. The goal is to get people from the group to get talking and engage them in the community to help enhance the organisation's goodwill and reputation among its members.
This ad is a spoof of a poster of the Bollywood film titled 'Om Shanti Om'. We replaced the actors of the film with modern day heroes and heroines who have gone ahead and epitomised peace. The film was one of the biggest hits ever and starred some of the most loved Bollywood actors. It fosters a high degree of interest. For a group of professionals from the urban class, fusing the pop-culture narrative with the motif of some of the most famous ambassadors of peace like Gandhi, Malala, Martin luther King Jr, and Nelson Mandela invokes instant gratification and thus engagement on the post.
Facebook is a chaotic place. The trends and impulse of the Facebook population keeps changing every moment. We have our eyes, ears and soul on it. If you are looking to utilise Social media for better Branding and Marketing purposes, give us a buzz. We'll make sure your digital ROI is right on track! Also check out our ClassyFrieds, our Facebook page dedicated to some of the wackiest ads we've floated on social media.