Influencing the Influencers. Brands, today, are increasingly leveraging social issues to create higher recall and high esteem among consumers. Social Media can be harnessed to create strong branding. It is proven that emotional messaging helps brands to better engage with its followers and fans. On this year's father's day, We took on the task of paying homage to the spirit of fatherhood and came up with a series of creative ads ideated for the #HappyFathersDay campaign for some of our esteemed clients. The engagement was awesome. Thousands of Likes, shares and comments poured in on Facebook, Instagram. Let's delve into the process of building these creative one by one.


About the theme: The first friend, the first teacher, the first hero, the first superhero and a million other firsts! The father holds special importance in every child's life. If not for fathers it is difficult to imagine how life would have turned out. A father is that person who stands by you, through thick and thins every step along the way. A father is the hero that every child idolises growing up. After all the Marvel and DC group of imaginary superheroes fade away, fathers remain and hold the position for being the real superheroes, omnipotent and loving.

Here is how we identified the emotions and converted them into a compelling visual story!
Ride On!
For this father's day message for an online jewellery brand, we combined an emotional motif with a message that oozes the sentiments of responsibility. The imagery projects a split projection. On the right of the image, we see a girl child riding pillion on a young father's scooter, while the left one is a reverse image of sorts, with an old ailing father riding pillion on his young daughter's scooter. While capturing the magic of time with the imagery, the copy inunciates the thought behind the image by celebrateing the million cherished memories of a child riding pillion on the father's scooter, while also transposing the message of responsibility saying that it is now the child's turn to take care of the old father.
Check out our awesome creative showcase. If you want to get in touch for a discussion, or an digital audit of your brand, write to us!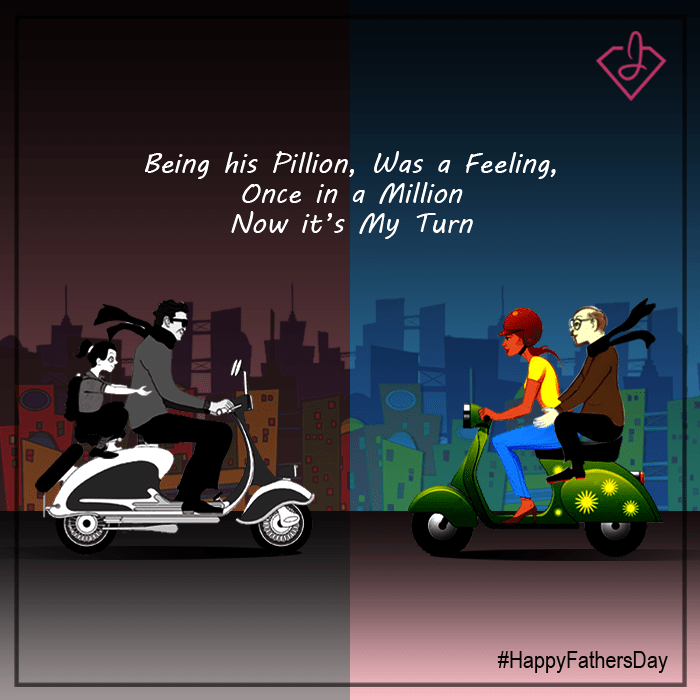 The first wise man
Ideated for a leading financial education institute in Kolkata, We encapsulated a message that most of us feel but hardly communicate. Our first role model is always the father. It is through his image that we start to learn. It is true that education banishes illumination and it is the father that starts to inculcate this feeling from the time we are at an impersonable age. A homage to the first teacher, and the wisdom of the father, this ad encapsulates a feeling of greatfulness and solace.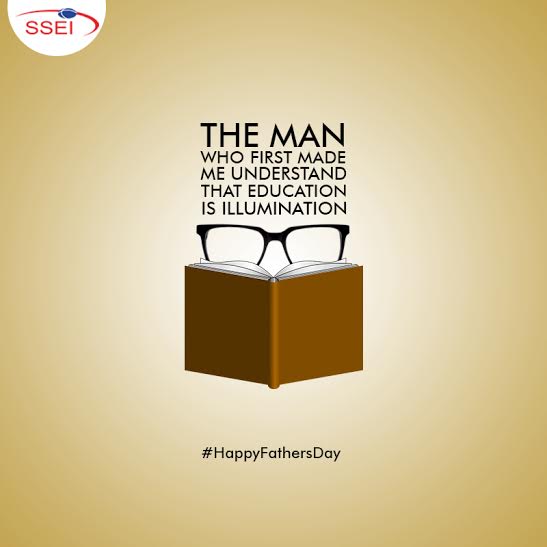 Do you Know who my dad is?
'Janta hai mera baap kaun hai?' is a phrase we all have either used or heard umpteen number of times in life. In this particular #HappyFathersDay campaign, we created a child character confronting a bully, many times his size with the confidence of a juggernaut. All he needs to supplement such confidence, is the phrase 'janta hai mera baap kaun hai', which translates in English to 'Do you know who my father is?'. The sentence showcases the kind of hero-worship and role-modelling that goes through our minds regarding our father when we are children. Lets face it, there is superman but before that there is dad. This father's day we sought to celebrate the spirit of the ultimate hero in fathers!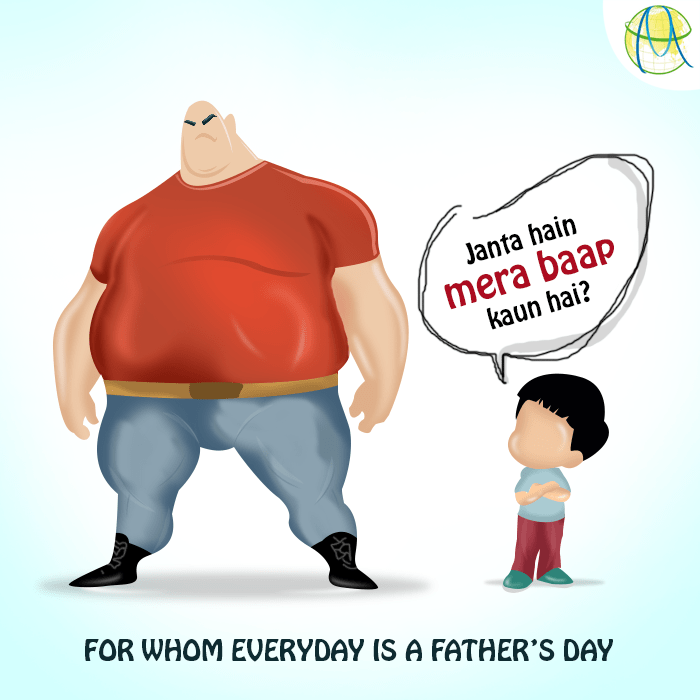 Check out our awesome creative showcase. If you want to get in touch for a discussion, or an digital audit of your brand, write to us!
Remebering the Good old slaps!
This AD was created for a brand involved in the commerce and finance education sector. This Animated GIF shows a father and son seated on the couch (read: The impact of animated gifs on social media marketing). The father looks at a book and checks on what his son has studied, and on being unable to give an answer the kid gets slapped slightly. It is approached from the perspective of a young person who looks back and discovers how funny childhood is. The image of getting slapped by your father because of being mischievious or inattentive during studying is eternal and part of everyone's life. It is something we've all been angered with or dreaded as a child but looking back after years, it really throws open a new perspective and brings a smile to the lips and the occasional teardrop in the corner of the eye. This ad hints at reconnecting with the memories of your childhood and finding love and joy in moments you least expect to find it in.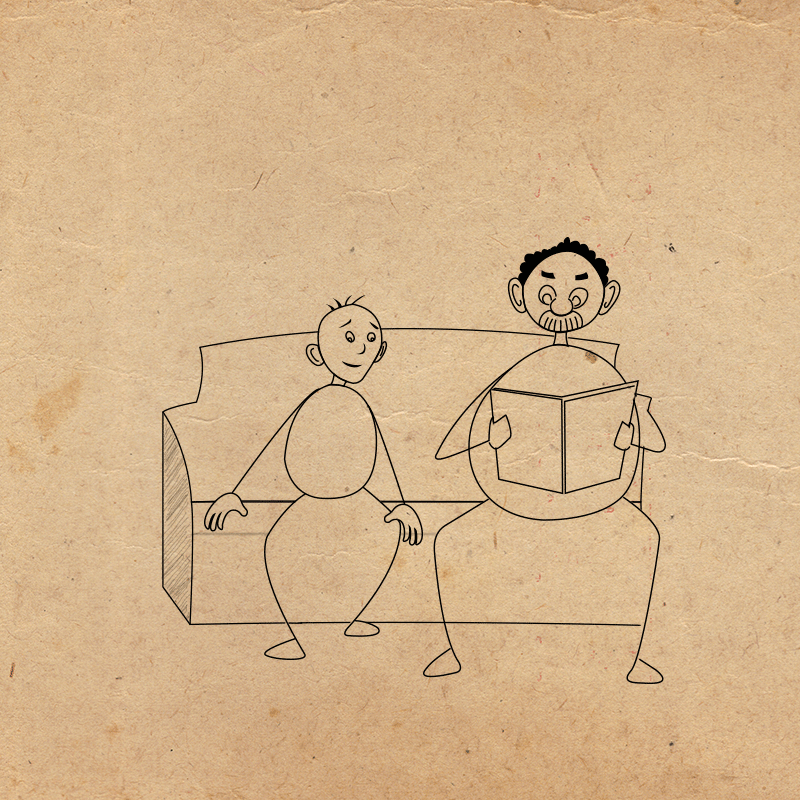 My Moustache Man
As far as superheroes are concerned, the first one we start to idolize is our father. This creative AD for a leading jeans and apparel brand, for their #HappyFathersDay campaign showcases the feeling that the relationship of a father and child embodies. For every child, the first male role-model happens to be a father or someone who acts as a father figure. This creative pays homage to the wonderful moments that every child spends looking up to daddy.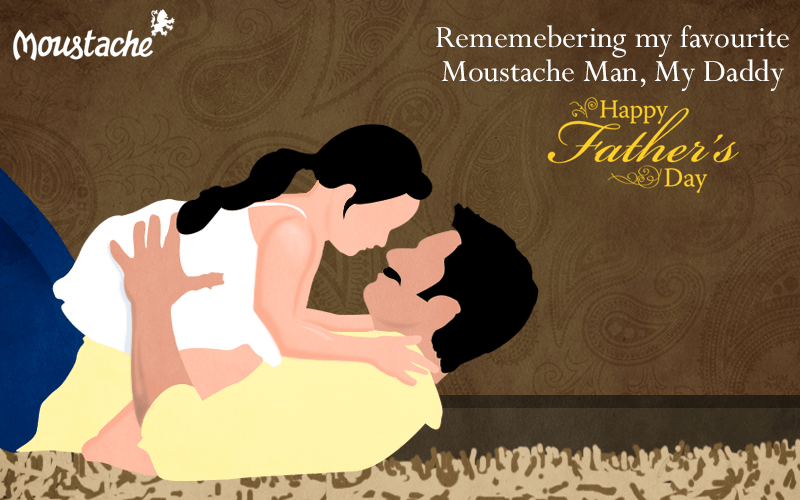 Check out our awesome creative showcase. If you want to get in touch for a discussion, or an digital audit of your brand, write to us!
The ultimate protector
When we think of fathers, the first thing we can think of is safety. The protective spirit of the father is unparalleled. Fathers make our lives secure and our worlds safer. Thanks to the father, we have a beautiful world to live in. This creative designed for a leading kitchen chimney brand seeks to identify and pay tribute to the spirit of fatherhood with gratitude.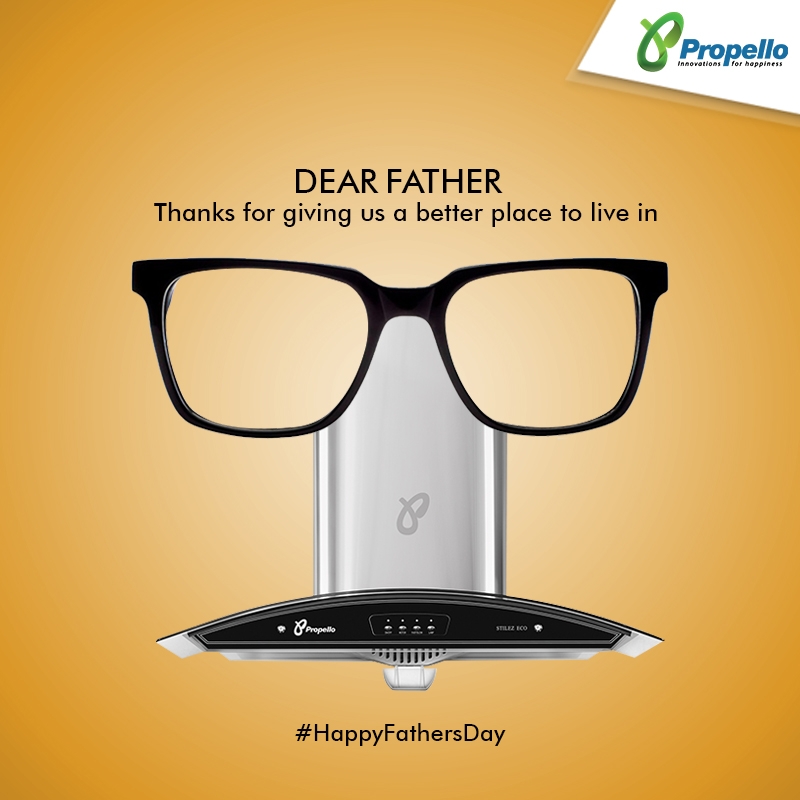 Shoes that can never be filled
One of the fondest memories of childhood is that of trying out your father's shoes and engaging in a role-play trying to emulate him. Using that scene as the motif for this ad designed for a footwear giant catering to the urban and semi-urban mass, We wanted to put forward a strong feeling through this #HappyFathersDay ad. No matter how hard you try, it is difficult to be as awesome as your father is a proven concensus. This ad identifies the awesomeness of fathers and goes ahead to celebrate it only but subtly.
Lean On him!
Fathers, no matter what, are always there for you. There is no other relationship that epitomises support like a father-child relationship. Our #HappyFathersDay campaign AD for a leading kid's wear brand, with stores across India, embodies the spirit of fatherly love in this creative. With an imperative copy that stresses on the fact that no matter what comes your way, the one person you can hold onto is your father.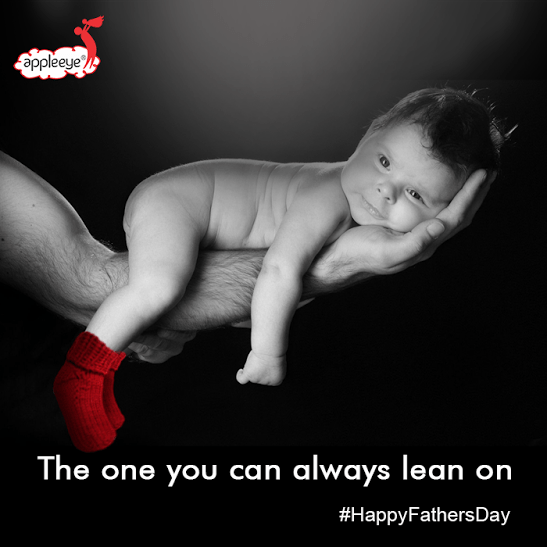 Guardian Angel
For Country Roads, a premium weekend resort near Kolkata, we chose to pay homage to the divine relationship between a father and his child. With a simple image of a father tumbling in the ground with a baby, the image captures a moment of simplistic bliss. It is an image we are all accustomed to. The copy ' Fathers are angels sent from heaven' puts the image in right perspective as we celebrate the angelic gift that a father is.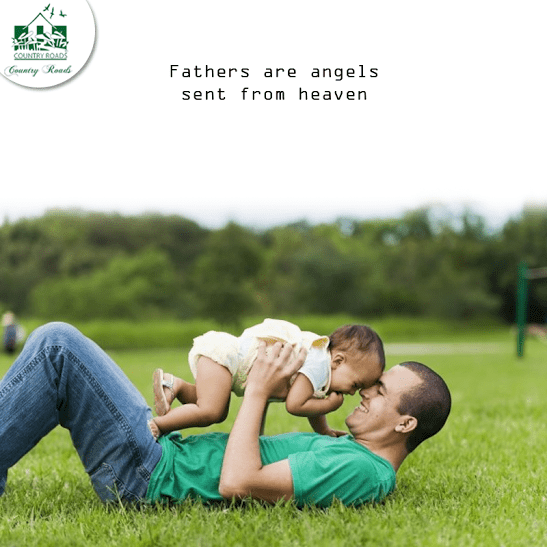 Nursing Love
For the father's day campaign of a leading Hospital in Kolkata, our idea for the creative was inspired by the unconditional love that father's are known for. With a bold image of a a baby's nimble feet held by the loving hands of a father, we establish the imagery of unconditional love and support. The copy goes on to talk about the way fathers stick by us through thick and thin and teach us about life, till we are ready to take on the world by ourselves.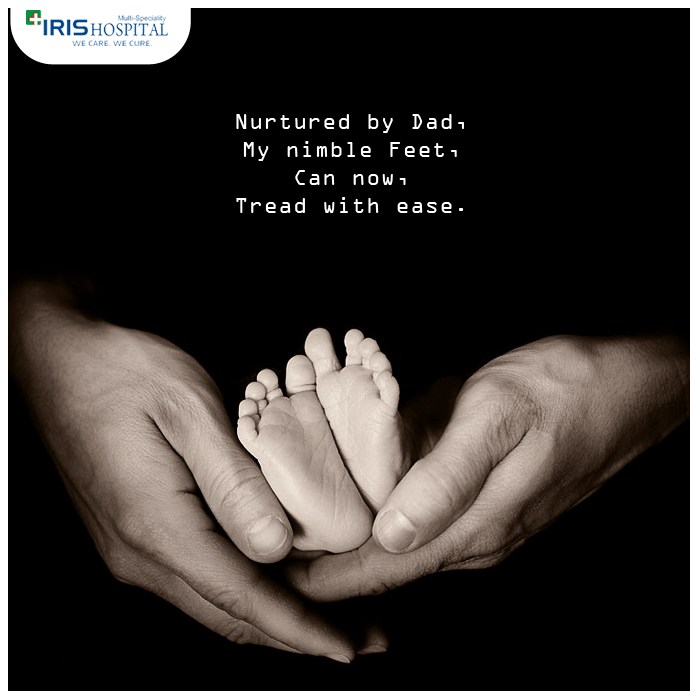 If you like this article, please share using the social buttons. Also, you should visit our creative showcase to see some of our recent works.